What are Ethereum futures and how do Ethereum futures work?
Ethereum remains the second most important project in the Crypto-world by market capitalization as well as by trade volume
Volatile as Bitcoin, Ethereum futures remains favourite to many of the traders
Ethereum future work; a brief explanation
How to trade Ethereum futures with Btcc.com – a step by step guide for you ahead!
WHY BTCC.com? Find out!
Looking to mint money, traders trade whatever they find volatile, comfortable and liquid enough to build positions. Similar to the bitcoin futures that are traded heavily in the future markets, the Ethereum futures are a pair under observation of many traders.
Whenever there arises a possible volatile move, the traders around the globe start building up their positions to mint money for themselves, looking to earn whatever they can. After all, volatility is the trader's best friend!
Let us understand what Ethereum futures are before we discuss how they work.
Ethereum futures are the future options which allow traders and investors to take exposure of the underlying asset (Ehtereum in this case) without having to hold the asset. Similar to other available future contracts for different assets, commodities and indices, the Ethereum futures offer the traders to speculate on the movement of ETH and make money for themselves!
How do the Ethereum future work, and what is leverage available to trade?
Ethereum futures are futures contracts of Ethereum. When the price of the Ethereum moves, so does the contract-price of its futures. For example, if the Ethereum's price starts to rise; similar movement will be witnessed in its futures (with small volatility due to the demand/supply pressure).
There are leverage options available where, according to your risk-bearing and speculative nature, you may trade as much as 100x to the value of the position you hold in assets! For example, if you have $1,000 available in your margin-trading account and you are willing to use (let's say) 50x of the exposure (which is 50 times the value of your account), you can buy Ethereum futures of worth $50,000. Assuming you purchased 200-lots (contract size is 1ETH) for Ethereum-future at $250, and the price fluctuated to $275 (assumption) which is only 5% of the value, you will end up making $5,000 on your account which only had $1,000. Potentially, according to this small 10% trade; a speculator made a 500% return in a single day!
Are you looking forward to buying Etherum future contracts? BTCC.com is here to serve you to the best of available service. From signing-up that only requires a 30-second procedure, to available liquid market; BTCC.com is offering you a platform to trade that provides you with every service to your comfort. Not just that, an exchange that gives you enough liquidity, a safe-environment, has minimum potential susceptibility to being hacked and yet provides an affordable price!
The ETH/USDT perpetual contract available at BTCC.com is shown below:
How to trade the Ethereum futures on the BTCC-exchange:
Step 1: Login into your account. Go to https://www.btcc.com/en-US/. This will open up the English version of the platform for your ease. Once you are in, press on the login option shown below: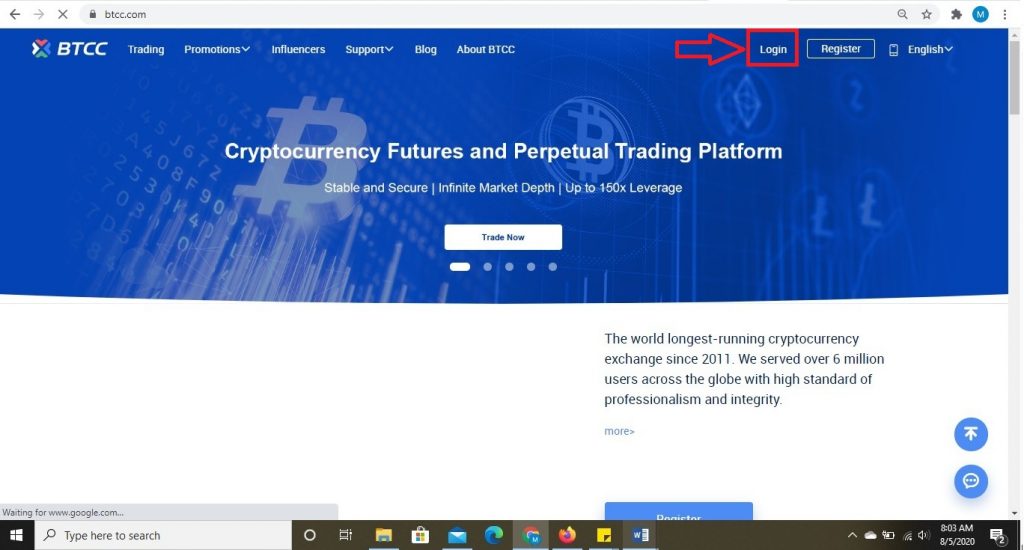 Press on Login (if you have an account already) or Register if you wish to create a new account. It only takes 30 seconds to sign up at BTCC.com!
Once you have registered, you can now go to the login page and enter your details!
Once you have logged in, this is the screen that you have. Press on trading to enter the Trading Platform: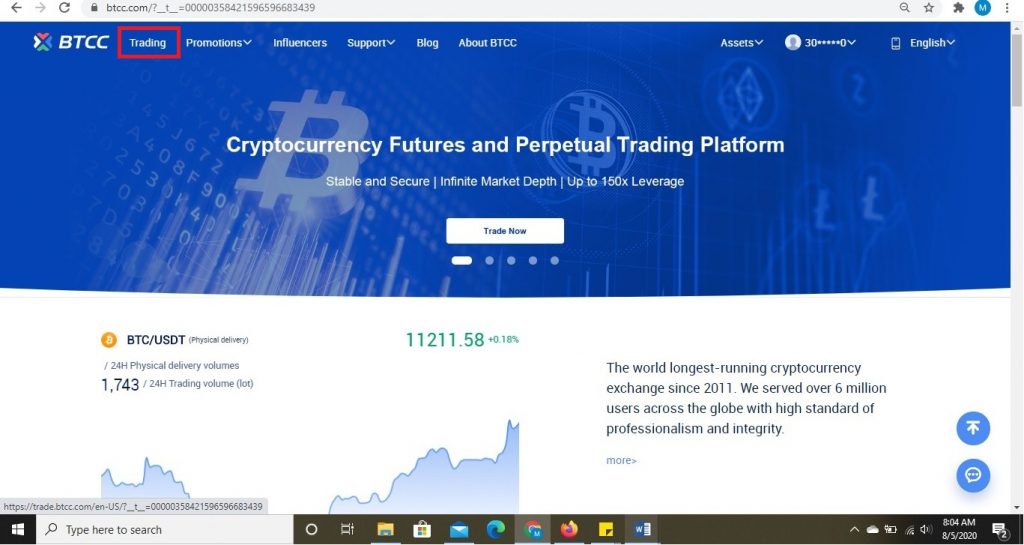 This is the trade screen that opens when you enter BTCC.com: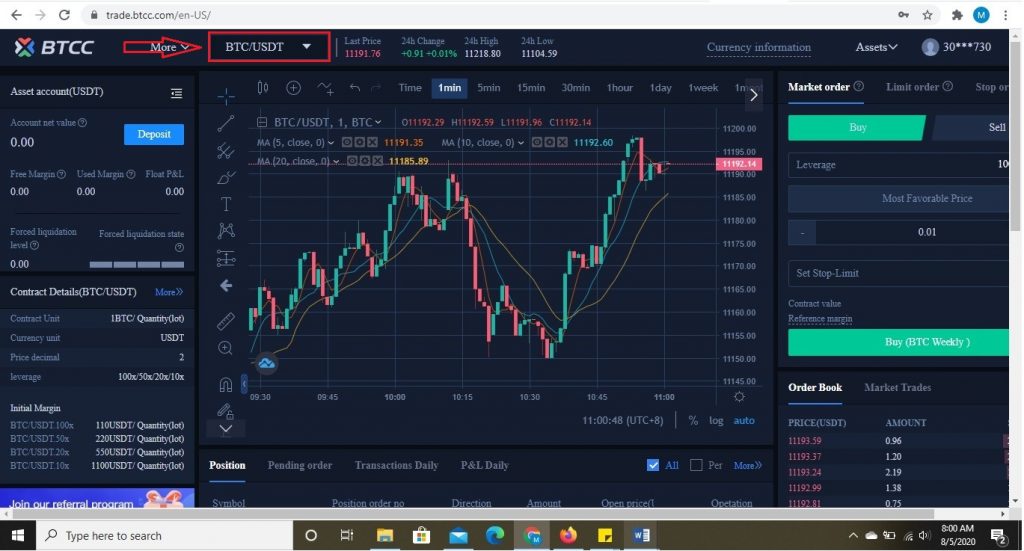 Click here to see the available contracts: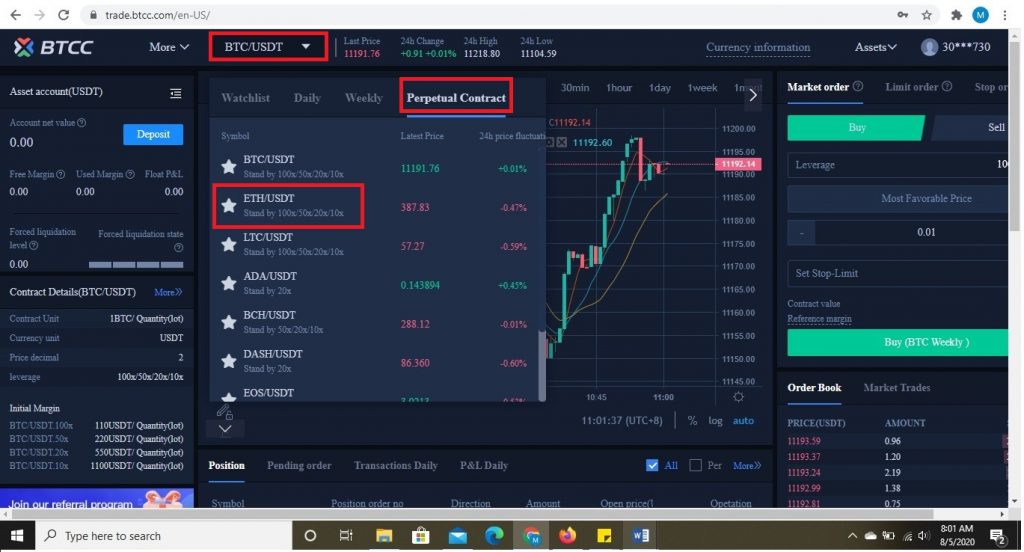 Select the ETH/USDT pair for your trade.
PRESS BUY! There you go. You are done!
Could it be more comfortable than this? I doubt.
Why BTCC.com?
The exchange that has served over 06 million users globally since 2011 remains the longest-serving digital currency exchange of the globe! With enough liquidity being offered to the traders (as this piece is being written, the 24-HR volume is 3,976in the BTCC-bitcoin futures while the 24-HR BTCC-Delivery amount is 64,484BTC. This is amongst the highest for the operating exchanges!
BTCC-index combines the spot prices of multiple exchanges and then offers the quote – which keeps its customers safe from any manipulation from a single mainstream exchange. The platform depth is so deep that the exchange can easily manage to take an order up to 500BTC in a single go!
BTCC exchange has been amongst the largest-yet fewest which have managed to provide a safe environment to its customers. Through innovative technology and independent trading systems, BTCC has managed to create multi-layered walls to protect the client's assets. For the last 08 years, BTCC has managed to take pride in "no-incidents" timeline within its history!
BTCC-platform uses the professional technology that ensures extreme market conditions are taken care of, well. To your wildest thoughts, if the customer makes a loss on the user's position entry since vigorous fluctuations were going on, the market fluctuations are borne by the platform and are allocated permanently! What more could the exchange offer its customers!
Guess what? The exchange offers you to activate your account only with $100! Not just that, it allows you to trade with as minimum as 1ETH/trade. With various leverage options, you can take the opportunity of leverage to as much as 100x! With nine major currencies-backed contracts being offered, there are 14-pairs which can be traded on long-side as well as short!
Disclaimer: There are risks attached in investing, trading and speculating. With hefty gains, there is always a risk of losing your money given that you are not adequately taking care of it. It is still the right attitude to ensure that you follow safety measures which could include using technical entries, stop loss(es) and targeted exits. Understanding leverage is significant. Consulting your independent financial advisor before entering into any commercial trade may remain an excellent option to consider.