How to Trade Bitcoin Crypto Futures in the United Kingdom (UK)
Ten years into the launch of Bitcoin, more investments and innovations keep taking shape now and into the future.
Bitcoin launched as a Cryptocurrency, went ahead to form as technology, and to date, it's a futures product since the 10th of December 2017.
And, you may be wondering where the market is regarding them within the UK?
It sounds a beautiful indicator, especially when leveraged by the fact that the entire UK's economy sits well globally.
Futures have been within investment circles for many years. However, 2017 marked the initial year of their indoctrination into the crypto-assets spaces.
The UK, like other Nations, struggles with control of Cryptocurrencies and Blockchain investments. There's no clear law regulating the undertakings, but blanket assumptions imply that earnings from virtual currencies are capital gains liable for taxes.
For now, Bitcoin futures lead, and as time goes by, more from the Altcoins should join into the current portfolio.
One towering and indisputable advantage of trading Bitcoin futures arises from speculating and gaining, even if you may not own BTC at hand.
Just Get Started on Trading Bitcoin Futures.
BTC futures allow the aspiring party to either go long or short, basing on an initial point of price speculation in time. You go long (buy) when the prices rise, and the reverse holds, – going short (selling) for price dives.
Smart speculation and commitment are what happens with Bitcoin futures:
First, you buy the Bitcoin futures. With that, you have an agreement that binds you into a contractual right to be the recipient of an amount stated therein in Bitcoin equivalents of value, and that should be within a specified period/ time when the trend favors you.
With the contract in place, you can profit excellently by making correct bets based on whether Bitcoins values go up or down. It seems a mirage, but experienced traders sniff the opportunities far ahead in time and take up winning positions by placing the bets/ contracts.
What Fees Apply For Bitcoin Futures Trading?
When trading Bitcoin Futures, here are the fees you are likely to incur (Most, similarly applicable to ordinary forex and crypto-asset trading models):
Trading fee: Usually, a small percentage chargeable as a commission for buying and selling BTC futures contracts.
Extension fee: Fees chargeable for contracts exceeding a set limit or date for prospective instance of closure.
Overnight fee: Fee chargeable for any outstanding positions for certain timespans, e.g., within weekends/ holidays.
Interest payment: For margin trades, you pay for the money you borrow to open a position. Your brokers calculate it as percentages of the amount of outlay.
Depositing and withdrawal fee: You may have to part with small portions for transferring monies into or out of your exchange for trading purposes. It helps brokers or platform providers to set off administrative costs for maintenance, security, and promotions.
Where To Buy and Sell l Crypto Futures contracts in the UK?
Craving to Trade BTC Futures? Here are Your Go-To Exchanges:
BTCC ranks among the first exchanges to roll out, and they offer Bitcoin Future within the UK market.
They've remained firmly established since 2011 and still standing firm on the pillars of professionalism and utmost integrity within the crypto-sphere.
Here are four solid pillars for considering your investments with Bitcoin Futures if you are in the UK:
1. BTCC has consistently worked its way up. Scoring 9 years of transparency within a sphere where it can be messy is a laudable achievement. Many have started and gone down the drain. Apart from the Bitcoin and Ethereum perpetual contracts, btcc.com offers you more, they include:
BCH/USDT
EOS/USDT
XLM/USDT
XRP/USDT
DASH/USDT
ADA/USDT
2. Price transparency underscores from the use of average weight indices with leverage variables basing from the top and reputable player or exchanges
3. Low margin entry barrier. With BTCC, USDT 0.5 is enough for you to take part in trades. If you take USDT perpetual contracts, the platform allows you upwards to X 150 to leverage on the margin you can garner.
4. Outstanding team-user experience which benefits traders. BTCC, as a team, has a singular focus on traders, who contribute to the real reason for BTCC's success. By way of giving back, BTCC fosters trader management by backstopping systems during high-frequency changes to keep the systems running.
FTX is a global player with opportunities to offer cryptocurrency derivatives- Bitcoin futures inclusive. As a UK person, FTX covers you. In terms of actual benefits, FTX is a platform with the trader in mind. You get perks like low and favorable spreads for your trades.
The FTX dashboard is sleek and unique in design, and you can spot futures closing periods. Aspiring traders can start with three months ahead or go for perpetual ones.
Deribit is another among active players where you can trade Bitcoin and Ethereum perpetual futures and other options as well. It's a platform with a global appeal. Apart from English, you can take on the system with languages like Korean, Japanese, Turkish, Chinese, and Russian.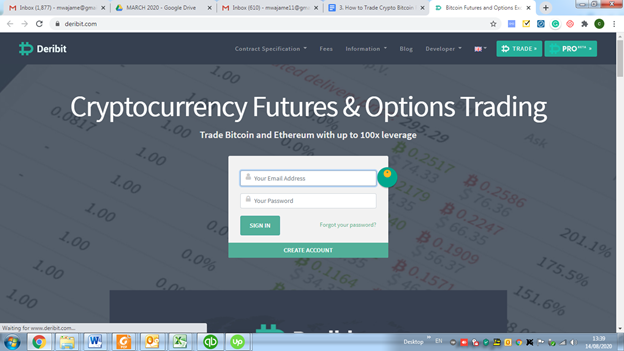 If you trade with Deribit, they provide you 100X leverage for Bitcoin futures. In terms of security, the system allows 99% of Bitcoins storage under cold wallets. And that helps in two ways – Platform and trader confidence plus reinforce the entire digital-asset security landscape.
Bitmex falls among the platforms where you can trade bitcoin futures in the UK. As a P2P crypto-product platform, they encourage traders to start their investment ventures by bolstering trading experience via demo-account via a server set aside for your practice and strategy tests.
Brief Guide – How to Use BTCC to Trade Crypto Futures in the UK.
Trading Bitcoin futures are among the most comfortable onboarding procedures.
Create a free account on BTCC in under 30 seconds.
Deposit some fund which can be as low as 0.5 USDT.
Look at your charts, speculate, and make your trades.
Here is a detailed guide on how to buy & sell Bitcoin futures contracts on BTCC.
Trading Bitcoin futures contracts gives you an edge against risky markets and platforms.
The rise of BTC futures brings in a unique nexus between regulation advocates and the risky landscape of asset pricing manipulation and in the light of profitable ventures.
Financial authorities around the globe allow Bitcoin Futures to be subject to set regulations.
Why Invest in Bitcoin Futures via BTCC?
Human talent and wisdom are unlimited, and so are the arrays of investment opportunities existing around. Bitcoin futures are a rare channel of making incomes.
Why?
You may not meet the capital and liquidity structures and thresholds for you to invest in mainstream businesses.
Coincidently, you could be a talented speculator of trends of economic and financial results. There you are, speculate smartly and win trades courtesy of Bitcoin futures under BTCC.
Start by taking the time to plan your positions on whether to buy or sell Bitcoin futures.
Your pure nexus is in light of a fall or rise in values of the price of Bitcoin.
When you commit to a Bitcoin future contract, you not only deploy leverage to multiply your returns-potential, you also inherently hedge against counter shifts of price fluctuation.