Despite the Recent Price Drop, 52% of Dogecoin Addresses are Still Profitable
According to IntoTheBlock, a total of 52% of Dogecoin's investments at the current price of $0.06 are "profitable". Although Dogecoin decreased by nearly 90% from the peak of about US $0.73 in may2021, this is a fact.
The In/Out of the Money index of IntoTheBlock gives the address proportion of profit (in money), balance of payments (out of money) or loss (out of money) at the current price. The In/Out  of currency indicator also looks at unrealized profits and losses for addresses that currently hold cryptocurrencies.
At present, the indicator shows that 52% of the Dogecoin addresses are making profits, the remaining 46% are in a state of loss, and almost no 2% of the addresses are in balance. Compared with Bitcoin and other alternative currencies, Dogecoin seems to have maintained good performance in this regard.
Dogecoin Price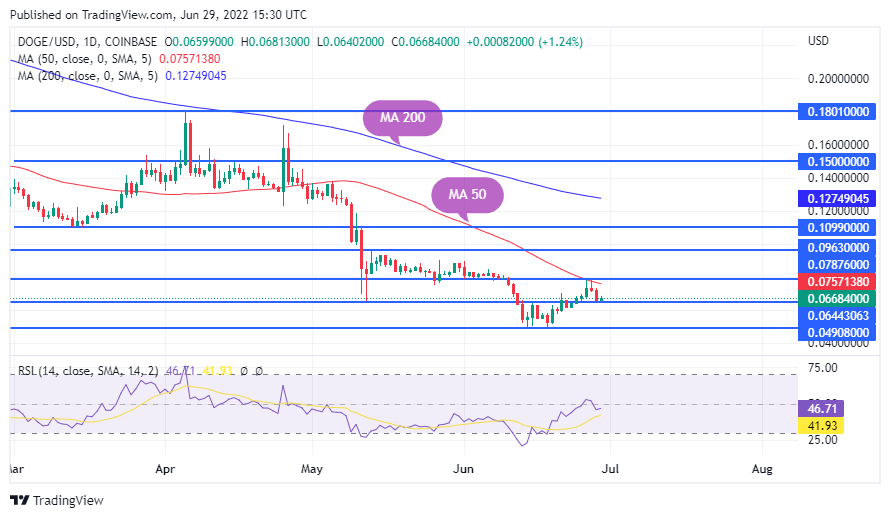 On June 18, Dogecoin rebounded from the low of $0.04, and positive price actions were recorded in 6 of the 9 days. On June 27, the bear market sold near the daily line ma50 close to $0.077. According to the data of CoinMarketCap, at the time of publishing, the turnover rate of Dogecoin was $0.067, down 4.01% in the past 24 hours and up 6.21% in the past week.
If the buyer tries to push the price above the MA 50 of $0.077 again, Doge may rebound to $0.09, and then try the psychological level of $0.10.
On Wednesday, Bitcoin temporarily fell below the $20,000 level because the market is still affected by some factors, such as the macroeconomic troubles of cryptocurrency companies. As long as the inflation rate remains high and the central bank tries to raise interest rates further, the economy in the United States and abroad may suffer a recession.