How to Trade BTC-Bitcoin Futures on Leverage in Singapore
The Bitcoin search term on Google trend entered Singapore's mainstream in April 2013 and increased in June 2017.
At the start of the 2017 crypto rush, a Singapore-based crypto startup Coinhako had its account closed due to regulatory concerns. Fast forward to 2018, the MAS – Monetary Authority of Singapore stated that they would not ban cryptocurrencies in the nation.
Through the MAS in a November 20, 2019, Reuters publication, the Singapore central bank commenced plans to regulate Bitcoin and other crypto futures traded on approved exchanges.
The Intercontinental Exchange – ICE, the parent company for the Bakkt Bitcoin futures contract, was one of the first regulated by the MAS.
Bitcoin BTC is one of the few DPTs – digital payment tokens that the MAS recognizes, Singapore's financial regulatory body, mitigate terrorist financing and comply with AML regulations. Singapore authorities continue to encourage experiments with blockchain and cryptocurrencies while keeping track of new threats in the industry at large.
Singapore holds a legally neutral standpoint to crypto transactions, and the MAS even partnered with blockchain tech and financial institutions towards inter-bank payments on blockchain rails.
Where to buy and sell bitcoin futures in Singapore?
If you reside in Singapore and you're shopping for a cryptocurrency exchange to trade in and out of Bitcoin positions, with a low barrier to entry and competitive leverage, then look no further.
The BTCC crypto derivative Exchange offers a state-of-the-art crypto trading platform with an intuitive and user-friendly interface in both desktop PC/MAC and mobile.
To get started, register a free crypto trading account using either your email or mobile number at BTCC.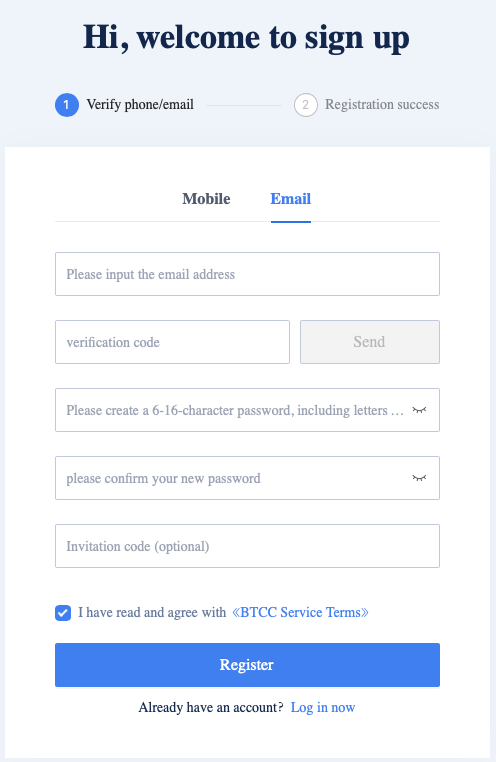 You will get a notification to verify your email, after which you can proceed to log into your BTCC trading account.
Click on the login button and continue with either the email or mobile login.
To get the best out of your trading account, you must make a minimum deposit and unlock all available leverage on the BTCC crypto trading platform.
A brief guide on how to use BTCC to trade bitcoin futures in Singapore. 
Now that you've completed the signup process, logged on, and have deposited some funds into your crypto trading account, let's walk you through seven simple steps to place your first trade on the BTCC crypto exchange as a Singapore resident.
1. Launch the BTCC Crypto Futures Trading Platform

First, launch the BTCC crypto trading platform by clicking on the "Trading" button on the top left corner of the BTCC home page.
2. Click the Market Watch Drop-down Widget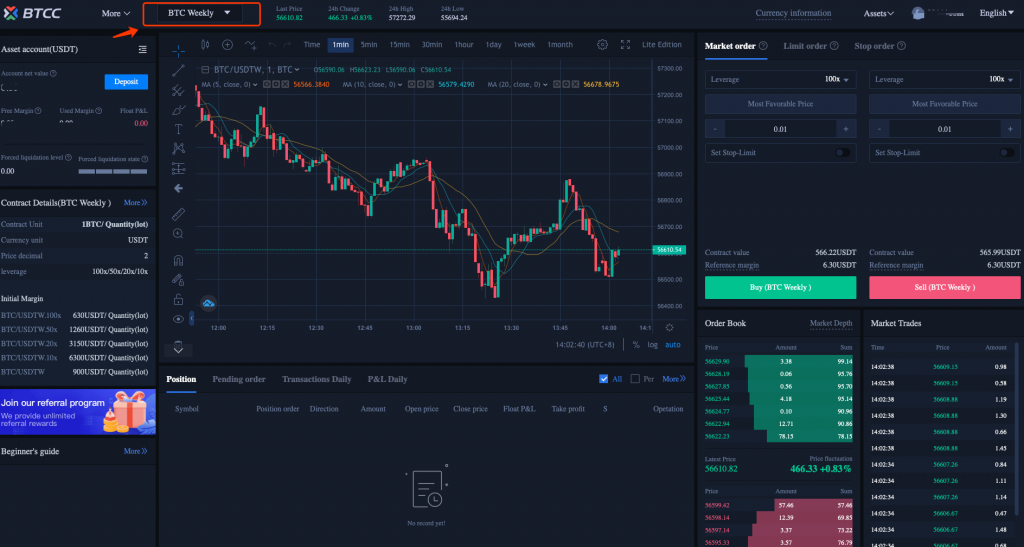 BTCC offers crypto derivatives trading in Regular (Daily/Weekly) Crypto Futures and Perpetual Futures contracts.
Although you can trade both forms of Bitcoin futures contract on leverage from 5X up to 150X, trading the regular daily/weekly futures come with an expiration period. In contrast, the perpetual futures contracts can be held with the condition that you must meet the margin requirements with no time restriction.
With the trading platform opened, click on the market watch drop-down button to select the type of futures contract you will like to trade, either Regular (Daily/Weekly) Crypto Futures Perpetual Futures trading.
We'll be referring to the Bitcoin perpetual futures as we move on in this guide.
3. Choose an Order Type (Market or Pending Limit/Stop Order)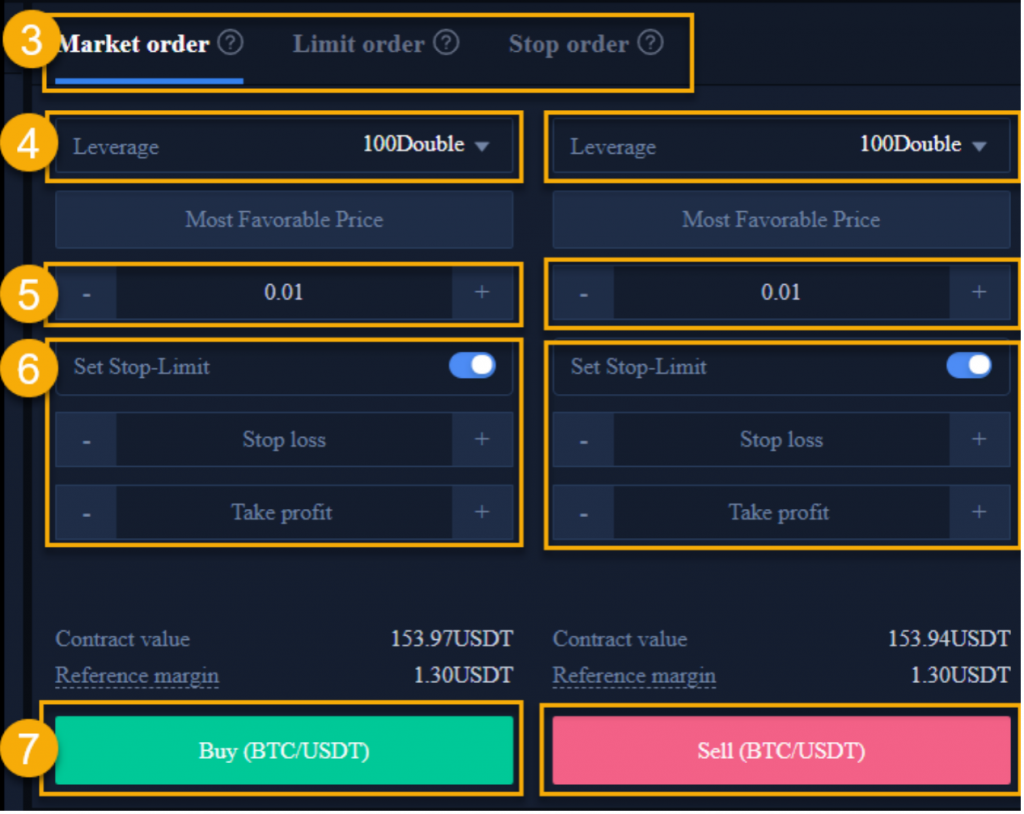 Let's assume you deploy a trend following strategy, and you find the Bitcoin price trading within a price support zone in the direction of a primary uptrend, and you decide to place a buy order.
Well, you can choose from either an instant buy order, buy limit or buy stop orders.
Following our example, an instant buy order will get filled at the most available ask price in the order book.
A buy limit order will get filled if the current ask price gets to a fixed price level below the asking price, while a buy stop order is set at a fixed price above the asking price and goes live when the current ask price gets to that level.
4. Leverage
Still, on the order menu, the BTCC exchange lets you choose from a 5X up to a 150X leverage; this way, you can buffer up your starting capital and profit more from your trading strategy's edge. Also, note that you can move from a low to higher leverage, depending on your risk appetite and chosen time frame for your analysis.
It's recommended to deploy lower leverage when analyzing higher time frames (daily, weekly, monthly) of the BTCUSDT and higher leverage when analyzing the lower time frames (5mins, 15mins, 1hour).
5. Volume 
Next, punch in the amount of Bitcoin you would like to purchase using a deposit balance.
6. Take-Profit/ Stop-Loss
The take-profit and stop-loss are exit levels you wish to close your open trade on the BTCUSDT.
Setting the stop-loss price level prevents you from further losses if the trade does not go as expected, and the take-profit helps you exit when the trade goes in the direction analyzed.
7. Buy/Sell Button

Finally, if you're done setting all the required input parameters and decided on your trade direction, click the buy or sell order button to execute your trade.
Conclusion
So, to my crypto-loving friends in Singapore, you can quickly get started with trading Bitcoin BTC futures and other top cryptos with a very low barrier to entry, with a wide range of withdrawal and deposit options.
Happy investing!