Highs of Bitcoin, Ether and DeFi
2021 is an exciting year for cryptocurrencies.
First, it's when BTC recorded its highest high ever at $ 20,000 as of December 2017.
As of early February 2021, BTC seems to attempt a rally towards retesting the higher height. At $36K it's only a $ 5,000 away.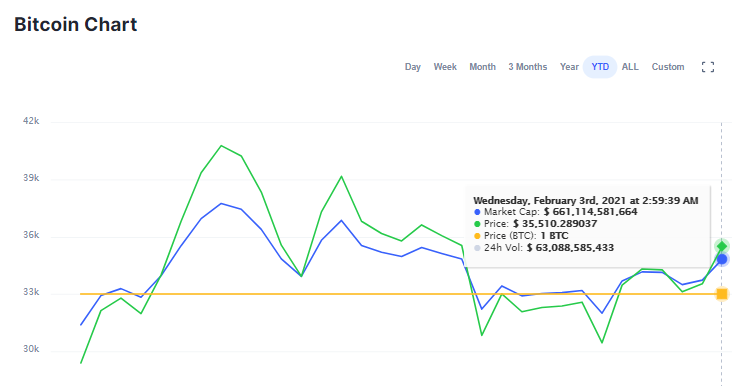 Seems interesting amidst the huge noise to explore faster and more scalable blockchains.
Or could BTC be getting more lucrative away from the lustre of traditionally valuable gold?
Can BTC rally towards another higher high?
Time will tell.
Ether is also gaining and currently displaying a highly bullish candle of all times to date and spiking towards a record high again.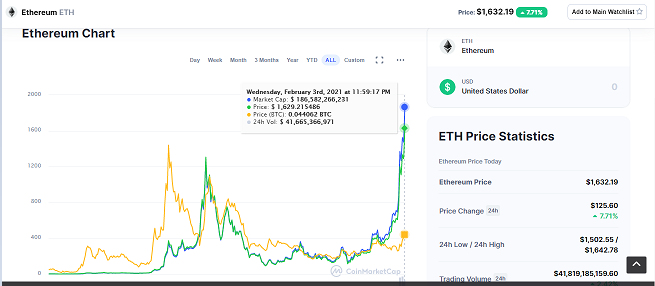 Ether should grow in value with limitless possibilities and ideally ride on its lack of a mining cap.
From other sentiments, Coindesk.com is echoing of another record hit of the values under lock by DeFis at $13.8B The records are a citation fro DeFi Pulse.
Putting it All Together
Digital assets are gaining in both value and adoption. Could they morph into new investments in the capacity of gold as the standard of storing values?
Investors should undertake adequate due diligence whilst investing in any. Remember, the single and most ruthless metric is the volatility of digital assets.
Finally, the apparent trajectory of higher highs is a positive indication. And it's time regulators start looking at the long term values of the entire ecosystem. Ideally, deviate away from making impulse-driven policies and laws to guide the whole ecosystem.