A Great Alternative to Binance to Trade Cryptocurrency Futures
Binance prides itself as the number one global crypto exchange for spot, options, and futures trading.
However, the high barrier to entry for trading futures on Binance may serve as a bottleneck for traders who want a direct approach to crypto futures trading without having to scheme through the different products on the Binance trading platform.
Now, if you're like me and you're out there shopping for a crypto exchange focusing primarily on cryptocurrency futures trading, then you'll definitely want to sign up for a trading account on BTCC cryptocurrency futures and CFD exchange.
But first, what is crypto futures trading?
Cryptocurrency futures are derived from an underlying crypto-asset, e.g. Bitcoin-BTC, which means you don't get the physical delivery and responsibility of storing your crypto. A crypto CFD trader's focus is to anticipate the likely direction of a crypto asset and profit from either a rising or falling trend.
Advantages that BTCC has over Binance in terms of Crypto futures trading.
Low Barrier to Entry/Ease of Use
Being a crypto futures CFD derivatives trading platform, the BTCC crypto exchange offers unlimited deposits in cryptocurrency (USDT) without KYC, a process that a click of a button can do.
Competitive Leverage
Trading on leverage opens the door to new opportunities, like increasing your purchasing power and taking short sell positions when you want to wager on the decline of an asset's value.
Opting to trade crypto futures on the BTCC crypto futures trading platform allows traders an opportunity to choose from a range of leverage starting from 5X up to 150X just like on Binance, so you'll really not be missing anything when you sign up.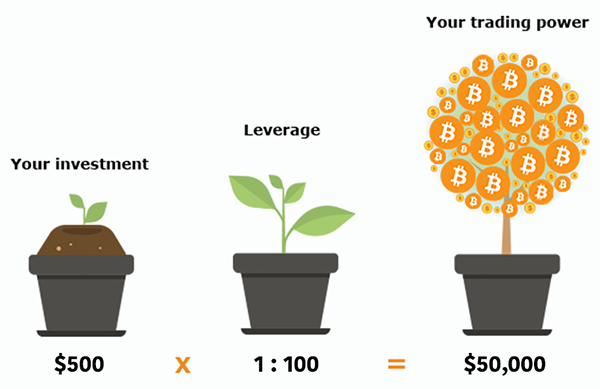 Intuitive Trading Platform/User Interface
The popular web-based TradingView, which has a very simple user interface that's easy to navigate with no fluffs powers the BTCC trading platform.
Similar to Binance, you get to choose from a wide range of trading indicators, line tools, measuring tools and so much more.
Ease of Deposit and Withdrawal
Funding and withdrawing from your crypto futures trading account is straightforward with no ambiguity. Traders get to transfer USDT into their BTCC account and start trading immediately.
A focused product offering (Daily/Weekly futures and Perpetual Futures)
The BTCC crypto exchange has a primary goal of serving traders that are interested in trading crypto futures without the responsibility of physically storing and securing the cryptos.
To do this, BTCC offers both daily/ weekly futures contracts and perpetual futures contract.
Read more about the BTCCs futures contracts below.
Daily/Weekly Futures
Similar to the futures contracts in traditional assets and commodities, the BTCC crypto futures has a time constraint whereby your position on a crypto asset either long (buy) or short (sell) will get liquidated in profit or loss.
Traders who would like to have a time control as confirmation that a trade signal is no longer valid may find this useful.
Perpetual Futures
With a crypto perpetual futures contract, there is no time restriction on trades as the crypto futures trader can hold trades in perpetuity on a single condition that they provide the required margin.
Just like on Binance, you can trade perpetual futures contracts on cryptocurrencies on the BTCC crypto CFD exchange, and it's so easy to get started.
We'll dive into that below in the next section.
Try your first crypto futures trades on BTCC
If you read up to this point, then congratulations, as we've come to that point where we walk you through step-by-step on how to get started trading crypto futures on the BTCC crypto CFD futures without all the bottlenecks in the space.
By following these seven easy steps after signing up for a crypto futures trading account using either your mobile or email address, you would have placed your first trades and start earning right away.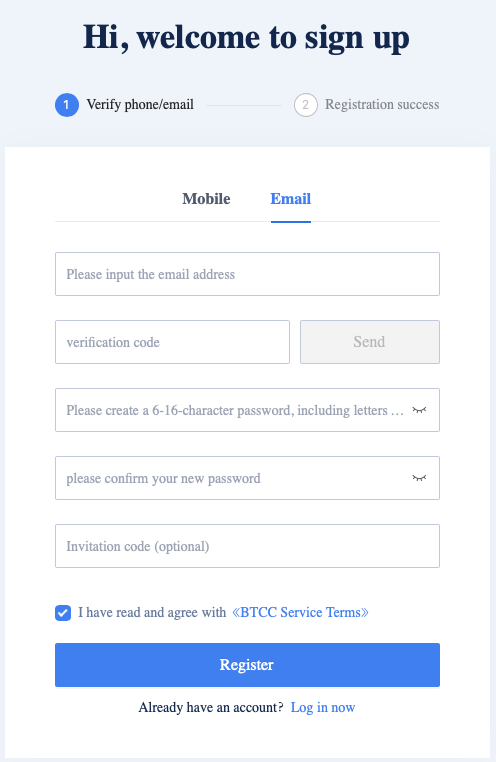 Step-1 Click on the "Trading" button on top navigation bar on the home page of BTCC to launch the crypto futures trading panel.
After completing the sign-up process, which should take about a minute, you can launch take your first leap into trading crypto futures on the BTCC web-based trading platform.
Step-2 BTCC Market Watch Widget
Now that you're on the BTCC crypto trading platform, the next step is to select the type of futures you would like to trade, which can be regular futures or perpetual futures.
For simplicity, we'll proceed with the perpetual futures trading.
Step-3 Choose from a Market or Pending order type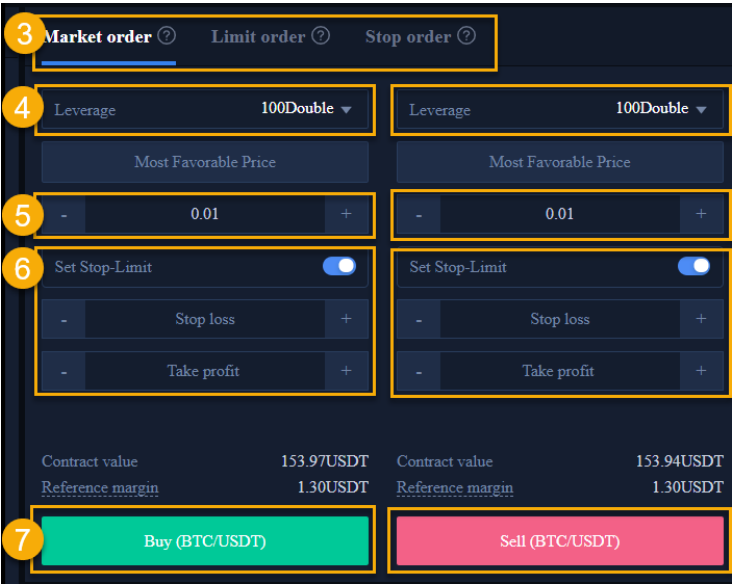 Let's assume your deployed trading strategy, which could follow one of a mean reversion, trend following, or sentiment analysis of the crypto asset, suggests a trade entry signal.
You can proceed by either a market or pending (limit or stop) orders, which can be of buy or sell types.
Market order will go live at the best ask or bid price, while pending orders will have to wait for the current bid/ask price to get to your set price trigger.
Step-4 Set your desired Leverage
As mentioned earlier, you can trade using leverage starting from 5X—150X on the BTCC trading platform. Select a leverage based on your trading experience/ appetite for risk.
Step-5 Set the Volume for your trade
Assuming you want to trade the BTCUSDT perpetual futures contract, type in the amount of Bitcoin you want to trade at the current market price or pending price level.
Step-6 Set Take-Profit and Stop-Loss price levels

Here, you want to set your desired price exit levels for profit or loss on a say, for example, a BTC/USDT perpetual futures trade.
Step-7 Click the Buy or Sell Button
The last step required to make your order go live as a market or pending order is to click on the buy or sell button stating the direction you want to take.
Conclusion
We could consider the Binance crypto trading platform as a one stop shop for anything crypto trading.
However, if you're looking to trade cryptocurrency futures on a crypto exchange that is specialized at offering crypto futures, then the BTCC cryptocurrency is the best alternative.
As always, trade responsibly and happy investing.
GO FOR A FREE ACCOUNT IN SECONDS At BTCC Now. New User Will Receive Up To 2,000 USDT Trading Bonus!