Try your luck and be the winner of 1 bitcoin and iPhone 13!


We will be hosting a lucky draw from today until October 31st. You have three chances everyday at spinning the roulette wheel to win the following prizes: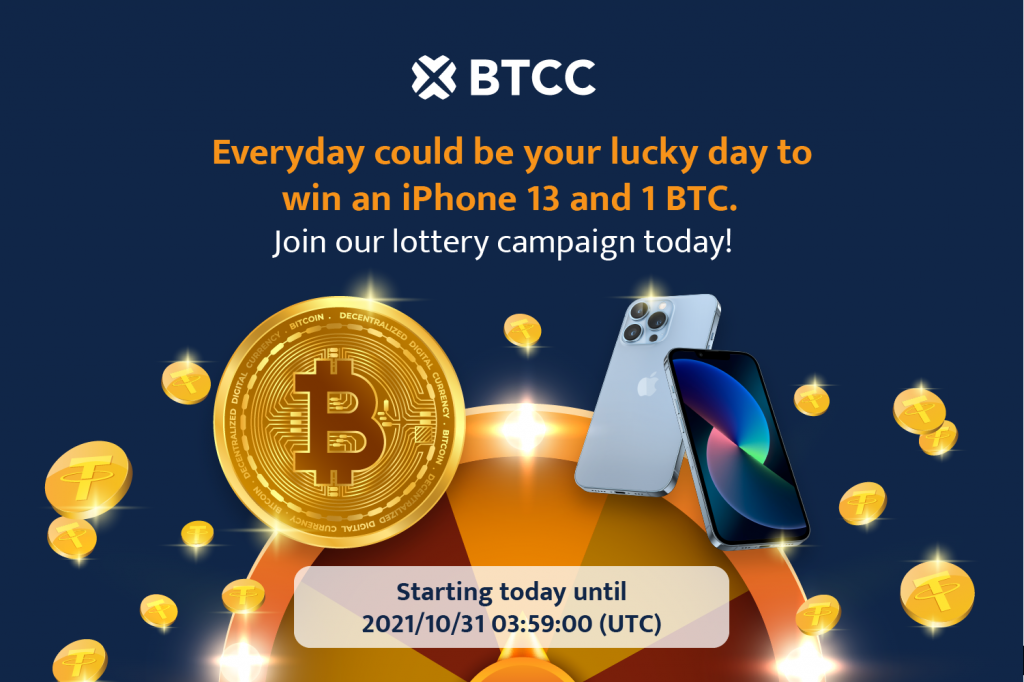 Event 1: Spin the lucky roulette wheel three times every day.

Spin the lucky roulette wheel three times each day starting from 00:00:00 (UTC+0) during the treasure chest countdown. Users miss their chance at drawing after 17:00:00 (UTC+0) of each day. The biggest prize you can win is valued at 1 BTC!

* 1 USDT is worth 1 USD approximately.
* If you win 1 BTC or USDT, the amount will be available in your account where trade and withdrawal functions are applicable.
*Users who win iPhone 13 Pro Max must notify customer service and provide a mailing address to receive the prize.
Please note: You must remain on the app for the countdown timer to work.

Step 1: Download BTCC app and login to your account.
Step 2: Tap the banner titled [Lucky draw] on the homepage.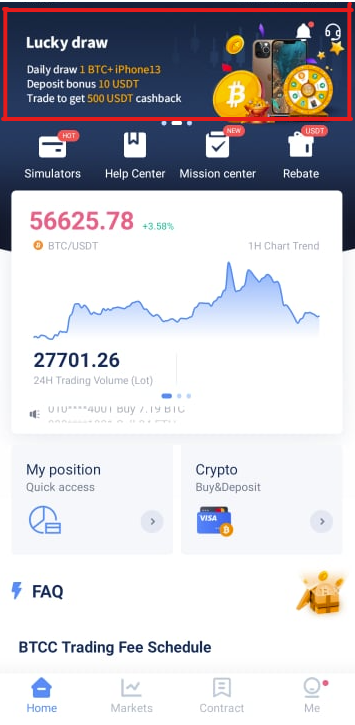 Step 3: Tap [Go] to spin the wheel then [Redeem] to claim your prize. Draw a maximum of 3 times every day.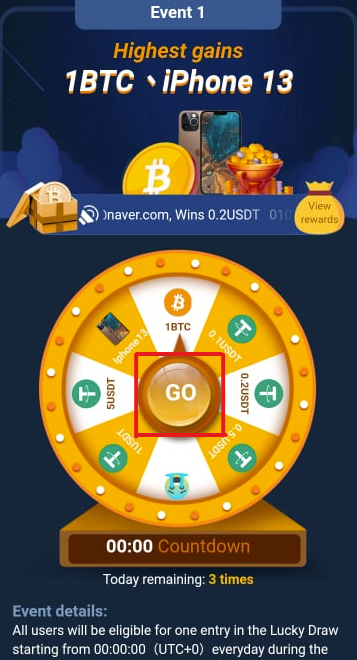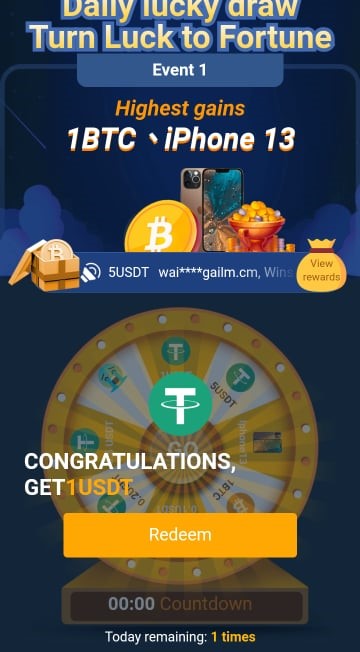 Step 4: Tap [Me] at the bottom of the page. When you arrive at this page, tap [All Asset>>].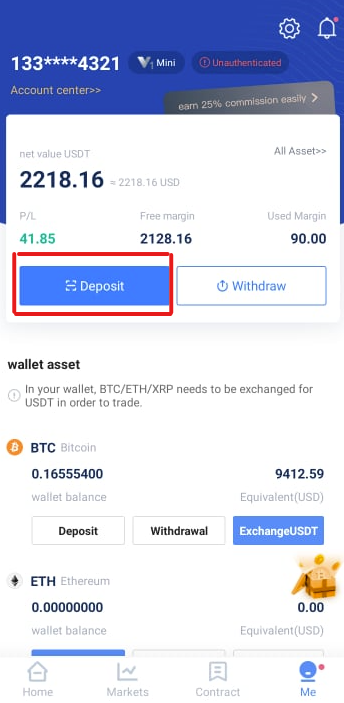 Step 5: When you arrive at the [Transaction details] page, you can check your lottery bonus.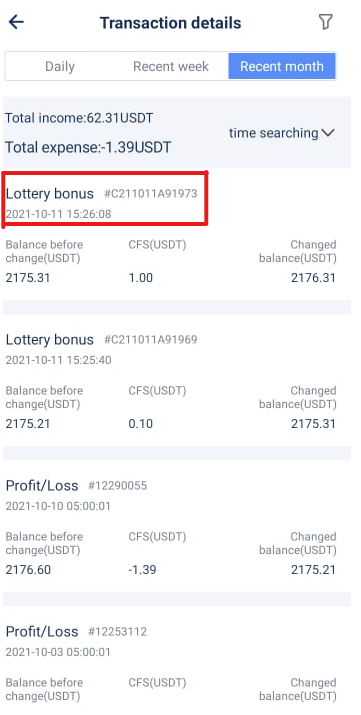 Event 2: Earn 10 USDT
During the lucky draw period, you can earn 10 USDT either by depositing ≥0.003 BTC (or ≥0.04 ETH ≥100 XRP) or purchase fiat currency ≥ 100 USDT.

Each user is entitled to redeem funds once. Upon redeeming, the funds will be posted in your BTCC account, where you can use to perform trade and withdrawals.


Step 1: Tap [Me] to start your process of redeeming your 10 USDT.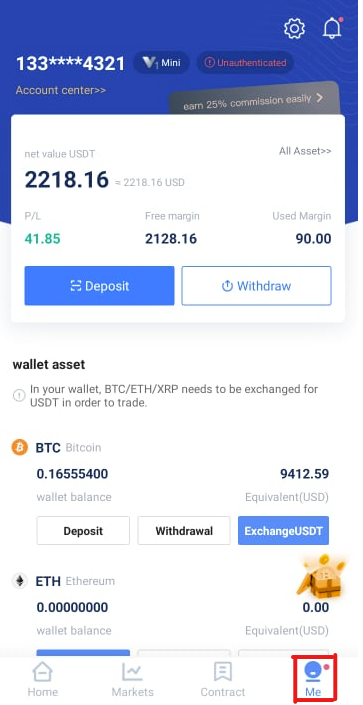 Step 2: Tap [Deposit] next to your cryptocurrency of choice.
Step 3: Copy your BTC wallet address or scan your QR code to deposit ≥0.003 BTC (or ≥0.04 ETH ≥100 XRP) to complete the deposit. 10 USDT will be deposited to your account the following day.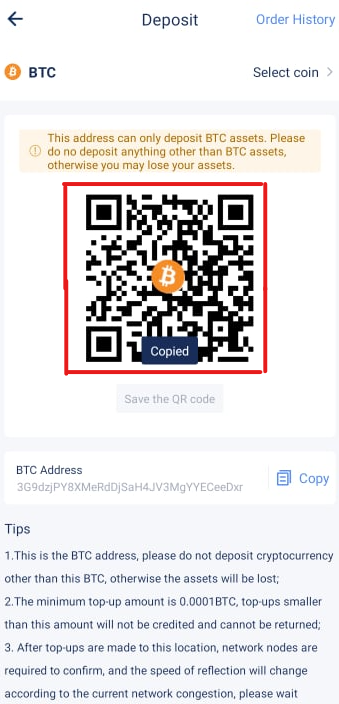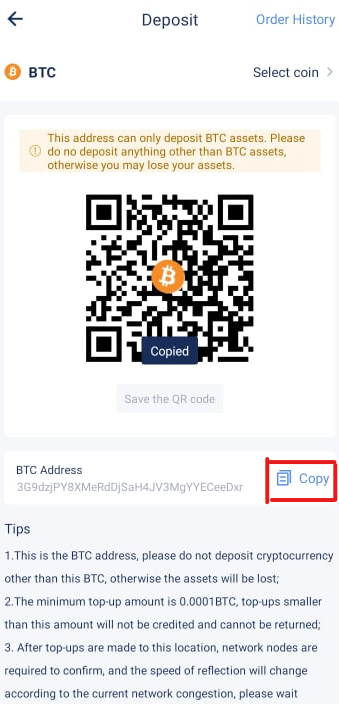 Event 3: Transaction cashback campaign
All users who trade during the campaign period will receive a 15% commission refund within 24 hours of the next business day of the transaction and can earn up to 500 USDT.
EX: If John's transaction fee is 1,000 USDT on Sept 10, the rebate he will get the next day is 150USDT. Before the event ends, if his transaction fee reaches 20,000 USDT, he will earn 500 USDT.
Disclaimers:
Event period: Starting today from 2021/10/31 03:59:00 (UTC)
During the event, in the event of fraudulent behaviours such as malicious arbitrage, batch registration of accounts, self-buying and selling, mutual buying and selling etcetera. BTCC reserves the right to disqualify any participants who show signs of attempting to carry out or carrying out fraudulent activity immediately.
BTCC reserves the right to cancel or modify the event or event rules at its discretion, without prior notice.
BTCC reserves the right of final interpretation of the event.

Risk warning: Contract trading is an activity associated with high market risk. While it may bring investors huge gains, it may also result in great losses. Past earnings do not predict future performance. Volatile price fluctuations may cause the entire margin balance to be forcibly liquidated. The information provided here should not be perceived as BTCC's financial or investment advice. All trading strategies are executed at your own discretion and risk. BTCC will not assume any responsibility to pay indemnities, compensation etcetera for any losses that you may incur as a result of your trading activities.
Download the app and Test your luck now!