Should Investors Speculate In Gold Or Invest In Bitcoin In 2021?
On January 8, 2021, Bitcoin break through the $40,000 price level, setting a new record high. Looking back at the cryptocurrency market in 2020, Bitcoin plummeted at the beginning of the year, then DeFi led the market hype, with a large number of assets fluctuated sharply in a short period of time. Near the end of the year, Bitcoin began to hit new highs again.
With the continuous rise of Bitcoin, many investors have adjusted their investment portfolio. Among them, users who invested in gold have switched to Bitcoin. According to the data report, cryptocurrency is currently the one with the highest appreciation potential for investment and financial management, with an increase of up to 70%, while the highest increase in traditional finance is only 20%. The continued high of Bitcoin has strengthen the faith of a large number of long-term Bitcoin investors, and even some gold ETF investors are considering Bitcoin as an alternative to gold.
As more financial tycoons and investment institutions enter the market, the prospects for Bitcoin in 2021 are even more impressive. The demand for digital currency investment and financial management has soared, and the major trading platforms in the crypto industry are also doing their best to provide more diverse cryptocurrency financial products to grab market share.
How to Choose an Investment Platform Will Be the First Lesson for New Users
BTCC is the world's leading digital asset trading platform. It was first established in June 2011, and has been operating for nearly 10 years. It is one of the platforms with the oldest operating history and the most trusted brand in the space. BTCC created the successful business model by introducing the management experience of the international financial market into the field of digital assets, aiming to create a truly fair, just, transparent and humane investment environment without any malicious manipulation for global investors.
Four Advantages of BTCC Platform
1. Safe and Stable
For trading platforms, security is the top priority. It is also necessary to ensure stable operation under extreme market conditions, and provide guarantees for the safety of users' funds. This is the most important reason why many users choose BTCC for margin trading.
2. Moderate Trading Fees
Investment users should pay attention to trading fees and other transaction costs in advance when choosing a trading platform. Do not choose a platform with too high fee, which will result in high investment costs and reduce revenue; Also do not choose a platform with too low fee, because the fee charged by the platform is too low, it is a sign that there are some instability in the platform itself, and the platform may run away which cause the loss of investor funds.
3.Ultralow Threshold
For new investors, the investment threshold should not be too high. Use the lowest threshold to increase the utilization rate of funds, and obtain high profits with lowest costs.
4. Users Evaluation
In order to avoid risky platforms, while making margin trading, we'd better choose a trading platform with a large number of users, excellent reviews and long operating history.
How to Register an Account in BTCC
In terms of user interface, BTCC is also the simplest trading platform. BTCC's account opening process is very fast and simple, it only takes three steps to complete:
Step 1: CLICK HERE to submit your register application, and create a free trading account;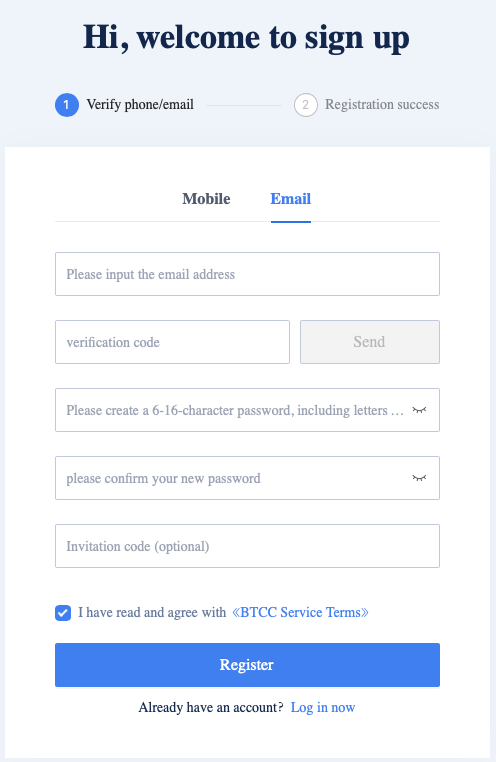 Step 2: Deposit into the account, and start the margin trading with sufficient funds;
Step 3: Start trading, you can place orders for various margin trading pairs such as Bitcoin, and you can make profits by going short or long;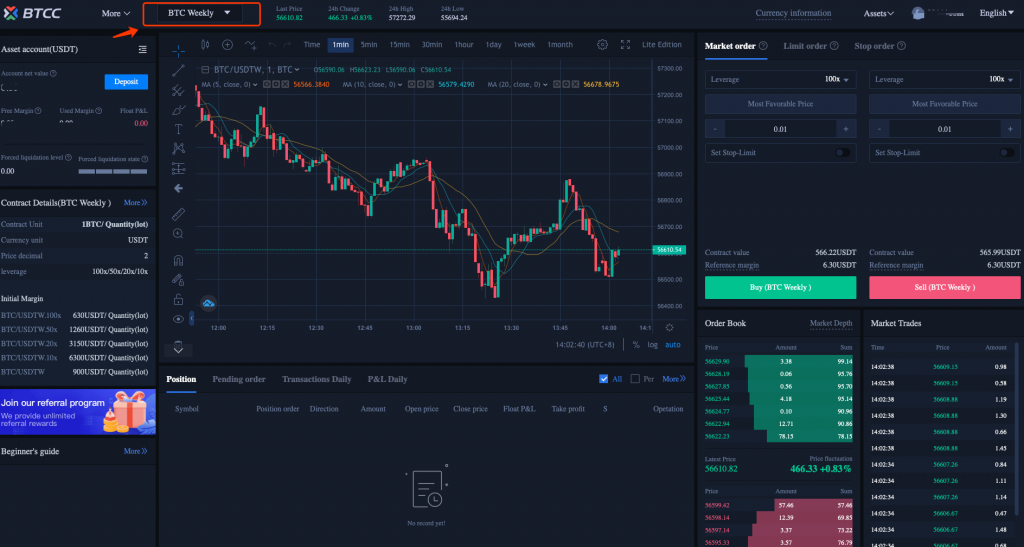 The usability of BTCC is great, both Android and IOS mobile apps are provided. Account opening can be completed in less than 1 minute, enjoy 24-hour trading and 24/7 customer service. New users deposit more than 500 USDT for the first time can enjoy up to 2,000 USDT deposit bonus, and there are more generous bonuses waiting for you to receive.