Terra Classic Burn: Over 466 million LUNC Destroyed During the MEXC Global LUNC Burn Event
MEXC destroyed 466,000,000 LUNC it had obtained from LUNC spot trading fees.
The spot trading fees for Terra Classic (LUNC) pairings on leading cryptocurrency exchange MEXC Global have been burned. The corresponding pairs trade for USD Coin (USDC) and USD Tether (USDT). On September 17, 2022, the three-day event that began on September 3 came to a close.
As the first cryptocurrency exchange (CEX) to back the burn tax proposal from the Terra Classic (LUNC) community, MEXC has burned the spot trading fees of LUNC earned on the platform in accordance with our time-limited burn event.
After collecting LUNC tokens as spot trading fees, MEXC Global burned a total of 466,330,428.18 (466.33 million) of them during the burn event.
The value of the LUNC tokens that MEXC Global destroyed was about $138,504 at the time of their destruction. An official blog post from the industry-leading cryptocurrency exchange reads:
"MEXC concluded the burning event for spot trading fees of LUNC/USDT and LUNC/USDC."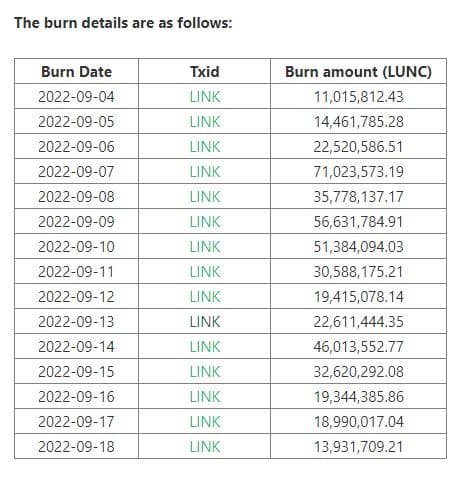 There was a 0.2% trading charge associated to takers, and that money was used to purchase 466,000,000 LUNC tokens.
Notably, every day's worth of accumulated LUNC spot trading fees were used to fuel a fire the following day. LUNC's greatest spot trading fees were collected on September 6, 2022, then burned the following day. It has been confirmed that on September 7, 2022, MEXC destroyed a total of 71,023,573.19 (71 million) LUNC.
Involvement of the MEXC in the LUNC Burn
It is worth noting that MEXC is one of the cryptocurrency exchanges working to assist LUNC investors in reviving the value of the cryptocurrency.
Once the plan is implemented on the Terra Classic network's mainnet, MEXC has stated that it will back the 1.2% tax burn of LUNC. Beginning on September 21, 2022, or at a block height of 9,475,200, the 1.2% tax burn will be implemented.
However, MEXC initiated a limited-duration burn program for LUNC prior to the activity. LUNC was created to aid Terra's communal burn initiative.