'Falling Man' NFT Has been Removed from the GameStop Platform
An NFT listed in GameStop's hot new marketplace for digital assets displaying a photo of a falling astronaut that resembled one of the 9/11 terrorists' victims has been removed.
It was listed by an artist known as "Jules" who gave the following description to the photo: "This one presumably fell from a MIR station.
Many in the NFT community, as well as others on Twitter and Reddit, quickly linked the image to that of Associated Press photographer Richard Drew, who captured the moment a victim of the September 11th attacks jumped from the burning World Trade Center.
According to a tweet from the firm, the NFT is no longer available. In spite of the fact that we were unable to verify that the individual who gave confirmation was an official GameStop Marketplace account, "Falling Man" has been removed from the web3 marketplace.
GameStop is selling an NFT of this 9/11 suicide victim pic.twitter.com/CulIvW3jjd

— xaviersonline.bsky.social (@xaviersonline_) July 23, 2022
The Falling Man Is Listed Several Times on OpenSea — Including the Literal One
To avoid future situations like these, some of Twitter's most outspoken opponents have recommended that GameStop set up a screening staff for digital art that enters its marketplace.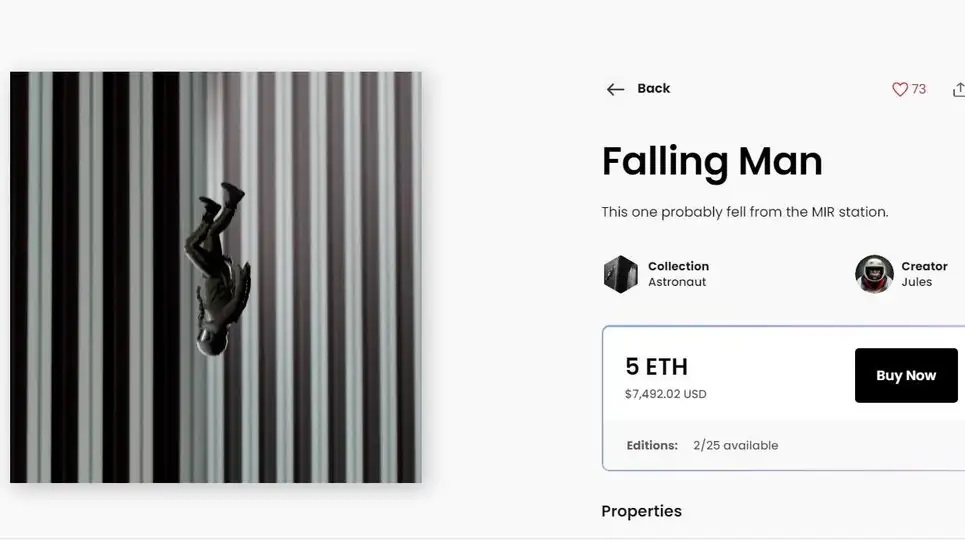 Since its formal launch on July 11, the company's NFT marketplace has generated trading volumes of about 8,000 ETH – approximately $13 million based on the current price of Ethereum.
According to Dune statistics, OpenSea's monthly trade volume was over $800 million in June, and it was close to $6 billion in January before the crypto winter began, before the market began to decline.
At the time of this writing, there are a surprising number of "The Falling Man" NFTs on OpenSea, each using a slightly altered version of a photograph of the actual person who took his or her own life. Here's a link to one of the listings.
However, OpenSea has not gotten the same reaction for allowing the photographs to be featured on its site, despite the irony being pointed out by multiple users. Most of these "Falling Man" NFTs have been listed for a year or more, according to the data on the site. As far as we know, OpenSea hasn't officially commented on these listings.
The effort to boycott the website barely a few weeks after its official launch raises questions about the motivations behind the investigation of GameStop exclusively for this occurrence.
The success of GameStop's NFT Marketplace is a big bet for the company
Because of its outmoded business model, which entails selling physical games, GameStop (GME) is putting a lot of faith in its web3 shift, which the company's management believes can help turn the company around after years of dwindling sales.
Profit margins at GameStop dwindled in the first quarter of 2022, while operating losses more than doubled compared to the same period in 2017. This resulted in a financial outlay of roughly $304 million for the corporation It had $1.04 billion in cash on hand at the end of this time period.
After steadily rising since May, shares of this resale video game reseller are down roughly 12% so far this year. As of this writing, GME's stock is trading at roughly $33 per share, down from $40 per share in July when their NFT marketplace went live.
In January 2021, a short-squeeze boosted the stock of GameStop, catapulting it into the limelight. A Reddit message board called WallStreetBets was used by retail traders back then to coordinate their efforts and drive the price up by purchasing short-dated options and placing highly leveraged bets.
Several stock exchanges, including Robinhood and Interactive Brokers, restricted or halted all purchases of GME shares as a result of the incident.
With its share price surging, the company was able to raise money and clean up its financial records at the same time. To help them get the company back on its feet, they amassed a large war chest. As a result, it's too early to say if the company's web3 bet will be enough to save it from the bleak macroeconomic backdrop.