World Blockchain Summit – Dubai 2022
Time: Mar 23rd, 2022 – Mar 24th, 2022
Location: Dubai, United Arab Emirates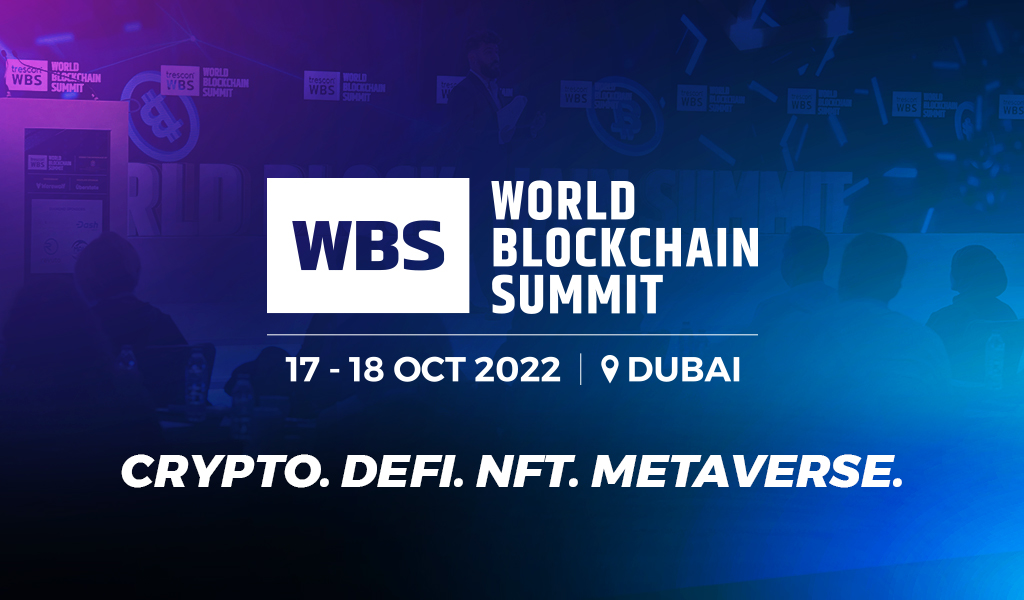 WBS Dubai, the Middle East's most influential cryptographic and BoScLink conference since 2017, will return to the human format event in March 2022.
The focus will be on blockchain, crypto, NFT, Metaverse, the Web 3.0 ecosystem and its wider impact on business, culture and communities.
WBS Dubai offers unparalleled networking opportunities for entrepreneurs, investors, governments, developers, industry enthusiasts and global media.
What is included in the World Blockchain Summit?
The World Blockchain Summit is a series of global elite gatherings held in more than 16 destinations across the world.
It is a thought-leadership-driven initiative that brings together the most important stakeholders in the blockchain and cryptocurrency ecosystem, blockchain and crypto projects, exchanges, enterprises, government representatives, technology leaders – Discuss and deliberate the future of the industry and the revolutionary ways it can transform business and government functions.
The summit also includes inspiring keynotes, pitch competitions, panel discussions, investor meetups, project showcases, industry use cases and a host of formal and informal networking opportunities.
Why in Dubai?
The UAE, particularly Dubai, is recognised for its welcoming stance on crypto and blockchain technology. Dubai facilitates its governing bodies to promote and foster the adoption of blockchain, with the Dubai Financial Services Authority (DFSA) working in the crypto regulation.
The DMCC Crypto Centre – launched in May to promote cryptographic and blockchain technologies in Dubai – is home to more than 100 organisations operating in the crypto space.
The city has opened a new free economic zone for business offering, issuing, listing and trading in Crypto. The Dubai Multi Commodities Center has signed an agreement with the Securities and Commodities Authority (SCA) to enable licensing for firms that deal with crypto assets.
Dubai Airport Free Zone Authority (DAFZA) signed an agreement with the SCA to contribute to driving growth in the cryptocurrency sector and enhance the use of blockchain in Dubai and the UAE, which will be an essential part of the nation's blockchain strategy.
Speakers include:
Ralf Glabischnig, Founder, CV VC
Aly Madhavji, Managing Partner, Blockchain Founders Fund
Tobias Young, Chief Investment Officer, NeoFlow Asset Management
Constantin-Claudiu Minea, Co-Founder & CEO, SeedOn
Marloes Pomp, DAO & Metaverse Advisor, Dutch Blockchain Coalition
Dr. Marwan Alzarouni, CEO, Dubai Blockchain Center
Austin Alexander, VP, Kraken Digital Asset Exchange
Prof. Dr. Isabell M. Welpe, Chair for Strategy and Organization, Technical University of Munich
Christian Kranicke, Founding Partner, Blufolio
Alexia Hefti, Chairman, Abed Group
Dubai has always been a pioneer in the technology space, and it's no different with blockchain. It is on its way to becoming a global hub for the development of this nascent and exciting industry. I believe the World Blockchain Summit is positioned perfectly to work in such a conducive environment, contributing to this development.