Weekly Recap: DOT – Biggest Loser, LTC Biggest Winner
It's been an up-and-down week overall for the crypto market, which saw coins jumping to all-time highs earlier last week before the market correction hit mid-week and stabilizing towards an even price level towards the end. Overall, this week's biggest movers have not been the usual suspects – BTC or ETH, but instead saw Polkadot as the biggest loser, and Litecoin as the largest winner over the past week.
DOT: 46.856 (-10.8% last 7 days)
This price swing from DOT is partially expected when we take into account the fact that Cardano (ADA) also experienced a large downswing following the launch of its major update to its blockchain network. After DOT launched the parachain auctions function onto its blockchain, the price moved up initially. However, as the hype died down from the launch, the coin's price dropped. This is due to the fact that the benefits of featuring this auction on DOT's network will not be immediately reflected, and will take several months to years before significant results are yielded. As such, DOT failed to meet the lofty expectations of casual investors that jumped on the hype train of the parachain auction, creating a sell-off a few days later that left DOT's prices in shambles.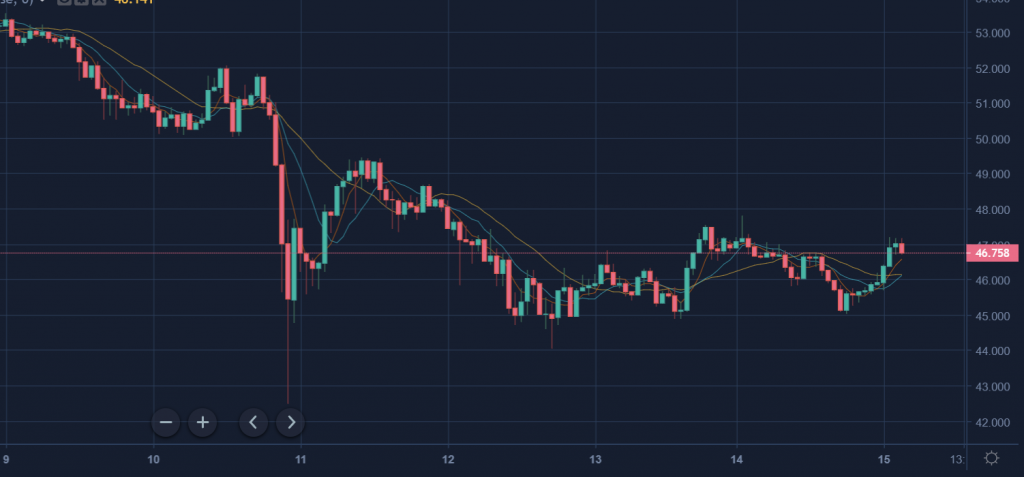 DOT price chart over the past week (1 hour intervals)
LTC: $275.20 (+33.17% last 7 days)
In contrast, Litecoin's prices have stayed largely the same since reaching its highest price point this year of $275 last Tuesday. For the potential reasons behind LTC's massive rally ever since late September this year, please refer to last Wednesday's coverage on Litecoin. In terms of capital migration, investors have shifted their capital allocation from BTC to LTC, with BTC conversion to LTC being 14% higher than LTC conversion to BTC. In addition, Grayscale is also preparing a launch of an LTC-centric ETF, which would provide a further boost to trading interest on Litecoin from both traditional and DeFi markets.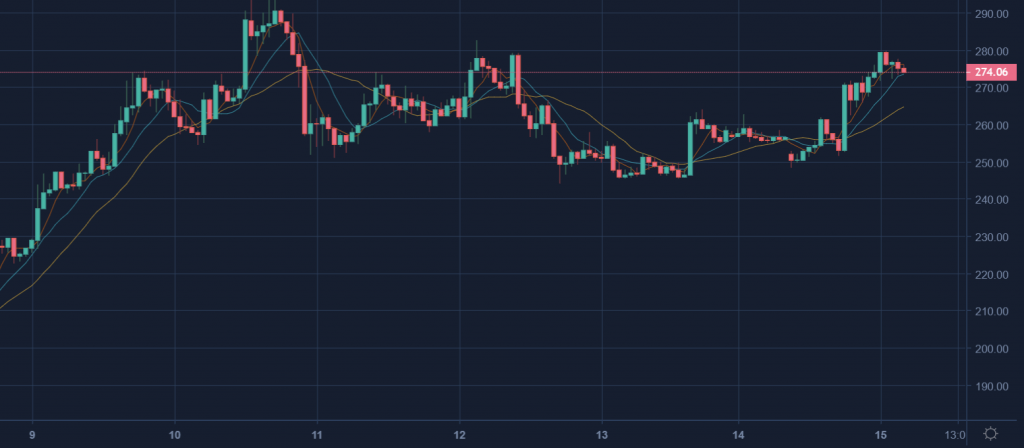 DOT price chart over the past week (1 hour intervals)
For this week's outlook, we can expect DOT's struggles to continue as investors adjust their expectations on what Polkadot blockchain's future entails after introducing the parachain auctions to better support developers on creating new dApps on their network. In addition, LTC's price surge should slowly cool off this week, barring any major news or updates from the network. We would suggest that investors continue to keep close tabs on whether ETH and BTC can manage to break through the price marks of $5,000 and $70,000, as either one would prompt the entire cryptocurrency market to enter another round of bullish frenzy.