Wednesday Market Watch: The Correction is here
A market correction was bound to happen; the only thing uncertain was when it would happen. From the sea of red, we can see that the market correction had arrived. Let's look at each major cryptocurrency's price movements today.
BTC: $65,116.76 (-3.53% 24h)
After reaching all-time-high yesterday, breaking the $68,000 barrier and flirting with $69,000 for the first time, the downward pressure from the market was too much for it to sustain at the ATH level. This led to its plummet today down to around $65,000.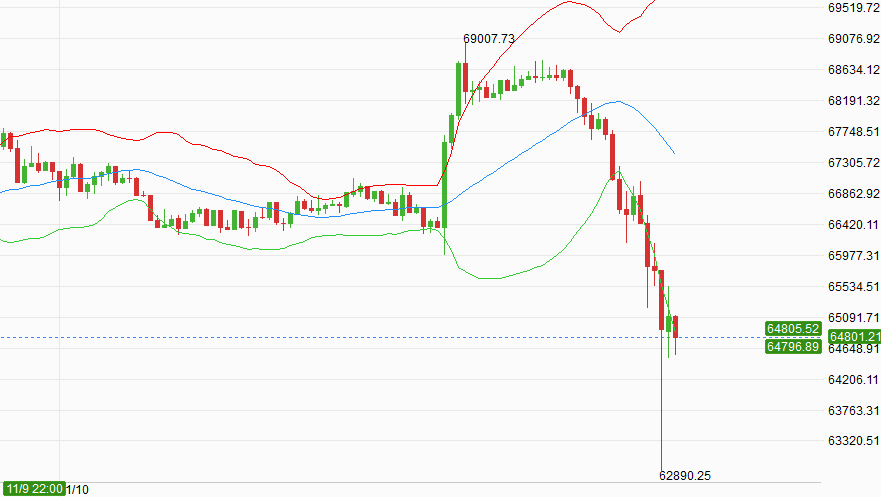 BTC price chart over the last 24 hours (15-minute intervals)
ETH: $4,574.81 (-3.35% 24h)
In the same fashion, ETH also faced downward pressure from the market after continuously pushing its ATH to higher and higher price limits. From the graph below, we could see that the price movement of ETH and BTC is almost identical, suggesting that this correction is industry-wide.
ETH price chart over the last 24 hours (15 minute intervals)
LTC: $264.7 (+0.77%)
Interestingly, the coin we covered in yesterday's article, Litecoin, is the only major alt-coin that did not crumble under the market pressure. It is actually up by around 0.75%, compared to the 8% drop across other alt-coins such as DOGE, ADA, and DOT. It is a good sign for LTC buyers going forward.
LTC price chart over the last 24 hours (15 minute intervals)
Other notable coin price movements today:
DOGE: $0.25207 (-7.85%)
ADA: $2.085952 (-8.17%)
DOT: $46.92 (-7.57%)
XLM: $0.384433 (-6.83%)