How to Buy More Stellar (XLM) Using Leverage
After founding Ripple and leaving in 2013, Jeb McCaleb moved on to co-found Stellar. This platform can, among other things, connect traditional banks to a payment system that any user can use in moving money across borders at almost no cost.
Now, let's differentiate the names. Stellar is the payment network developed by McCaleb and his team, and Lumens is the cryptocurrency created to facilitate transactions on the network.
At the inception of the Stellar-Lumen XLM cryptocurrency, users, traders, and speculators would have to set up an address on the Stellar network, which was not an easy feat for the less tech-savvy.
Enter XLM leverage trading.
What is Stellar (XLM) leverage trading?
Trading the Stellar XLM on leverage can be likened to taking a loan from your crypto exchange, which boosts your initial capital and allows you to take on a higher-order size than you would ordinarily without leverage.
The advantage of investing in XLM futures contracts over in the XLM coins
Crypto enthusiasts and traders can buy XLM coins directly and profit only if the asset goes higher in price. This method is known as spot trading. There is no leverage available when spot trading and the trader is limited to profiting only when the XLM coin goes higher.

On the other hand, by investing in XLM futures contracts, traders can enter a buy position if they believe the price will go higher or enter a sell position if they think the price would go lower.
XLM futures contracts come with the opportunity to buy more Lumens (XLM). This is known as trading with leverage or margin trading. A trader can better optimize and make more from his strategy by amplifying his/her trades.
XLM futures contracts open up the option for traders to deploy hedging techniques on their open positions, reducing risks, and increasing potential profits through leverage.
A brief guide on how to trade XLM with leverage on the BTCC.com which provides up to 150X leverage on XLM perpetual contracts
After completing the registration process and making a deposit, you can start trading XLM perpetual contracts on the BTCC crypto exchange by following three simple steps.
Select the market watch combo box
Click on the Perpetual futures contracts
Make your first trade by entering an instant or pending buy/sell order
The XLMUSDT on the BTCC trading platform is offered as a perpetual futures contract. Unlike regular futures contracts, with perpetual futures contracts, there is no expiry date on your open buy or sell orders, which means you can hold your trades for as long as you meet up with the margin requirements.
1 Select the Market Watch Combo Box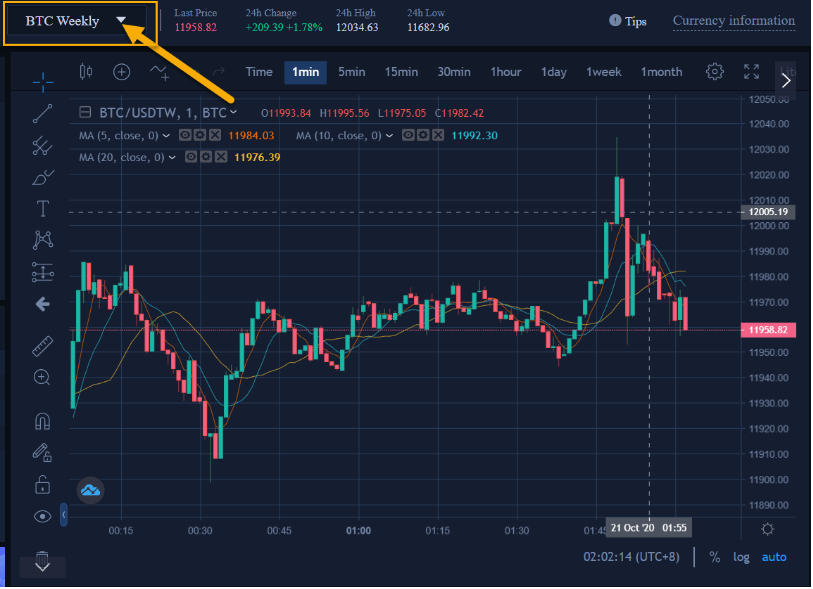 To get to the XLMUSD perpetual futures contract, first, click on the market watch combo-box on your top left corner that is set to BTCUSDT by default.
Next, hover your cursor to the right and select the perpetual contract tab. Scroll down the list of perpetual crypto futures contracts where you will find the XRPUSD.
2 Click on the XLMUSDT Perpetual Futures Contract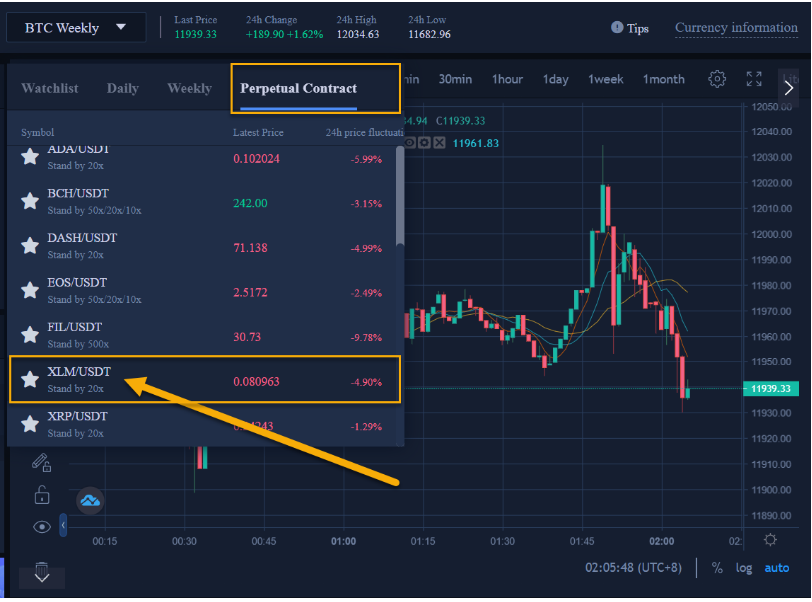 See, it's that simple. Now, let's go on to placing trades.
3 Make your first trade on BTCC.com web-based platform
Upon setting the trading terminal to the XLMUSD crypto pair, the next step after analyzing the trend direction is to select a trading lot size, leverage, and enter with a pending or instant (buy/sell) order.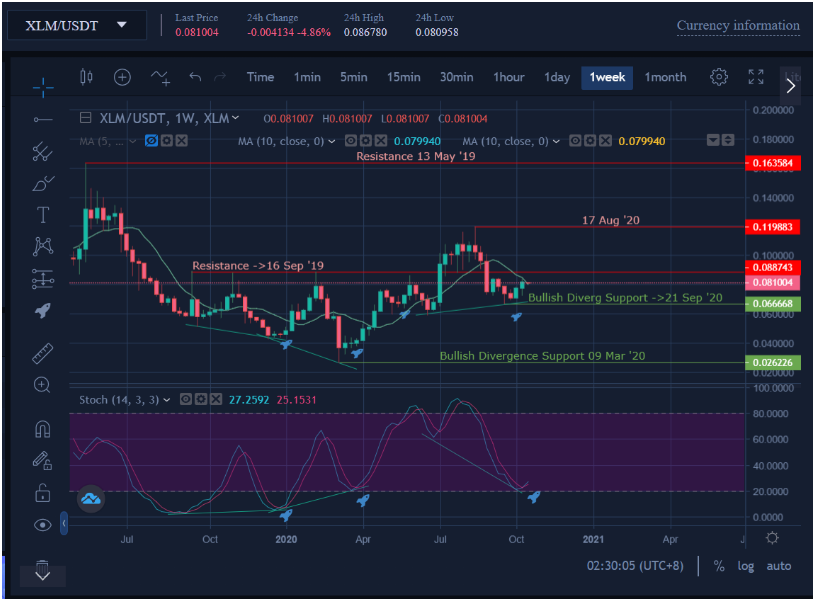 Following the weekly chart analysis of the XLMUSDT above, we identify a hidden bullish divergence setup alongside a breakout of bearish inside bar resistance. This confirms a bottoming of the correction phase, and the pair is ready to resume the bullish trend from the 21 September '20 low.
Again, make sure you have the XLM/USDT crypto pair selected under Perpetual Contract, so you have your trades opened on your desired XLMUSDT.
Ready to take your first trade? You can do so by selecting either the Market order, Limit order, or Stop order Tab.
Let's start with the Market order tab.
Market Order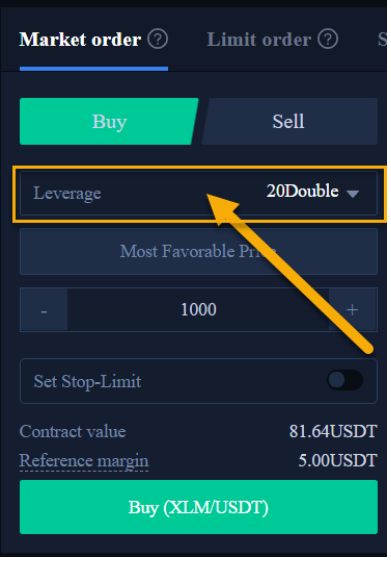 The market order is an instant buy or sell instruction sent to the BTCC.com servers to trade the XLMUSDT crypto pair. Before going ahead to take a buy or sell position, you should first select leverage from the drop-down button.
BTCC.com offers leverage up to 150X on the XLMUSDT when you deposit to your account. This enables traders more control over trade volume.
Next, by hitting the toggle switch on the Set Stop-Limit, you get to establish a take profit target for when the trade goes in your favor and a stop loss level if the trade does not go in your anticipated direction. This is done to protect your capital so you can trade another day.
Pending Limit and Stop Orders
Pending orders are often used when the trader expects the crypto asset to either bounce off a specified price level or break through the level. Let's differentiate them below.
Pending Limit Order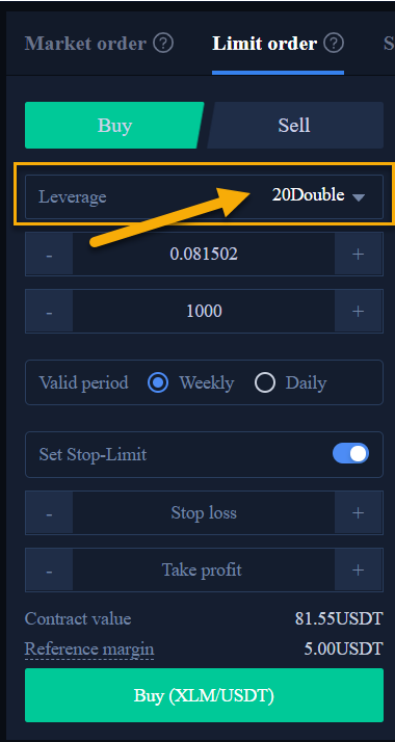 The pending limit order (sell limit or buy limit) is set when the XLMUSD is anticipated to bounce off a set and predetermined price level and move in the opposite direction to the specified level.
Pending Stop Order
The pending stop order, which can either be a buy stop or sell stop order, is put in place when the XLMUSDT is projected to break through an established price target and continue in the same direction.
Both pending limit and stop orders have a reasonable time frame, which can be daily or weekly.
This means that the pending order should be deleted if the order does not activate the set price levels.
Like the instant market order, stop loss, and take profit, exit points should be set with your pending orders to secure your earnings and automatically cut short your losses.
Conclusion
So you see, leverage trading has many benefits, and making a transition to the BTCC.com exchange is a breeze.
Following this guide and the suggested chart patterns, you should incorporate your own ideas with sound risk and money management to consistently make money trading the XLMUSD on margin.