The Ultimate Guide to Trading Crypto on the BTCC App
Crypto trading has been the talk of the town for a while. Did you know 1 in every 10 people trade cryptocurrency in 2021? Therefore, if you are looking to join the craze and grow your portfolio, you have come to the right place.
With its advanced yet easy-to-use functionalities, the BTCC crypto trading platform is designed to suit the needs of both beginners and professionals.
In this article, we will walk you through all the essential processes of trading crypto on BTCC. From account opening to choosing the right leverage, and from managing your trading risks to joining our crypto reward programmes, we have got you covered. Therefore, there will be all the details you need to know in this article, so let's dive right in.
Quick Content Guide – How to's
Open a BTCC account
Deposit funds into your BTCC account with credit cards
View Live chart page
Set crypto price alert function
Adjust your leverage
Apply the BTCC Conversion function
Market Order, Limit Order and Stop Order: How do they work?
Get daily bonuses and crypto rewards
Open an account to trade crypto on BTCC
How to open a BTCC account – Registration
1. To start your crypto trading journey on BTCC, you will need an account. If you have not registered yet, go to Google Play or Apple Store to download the BTCC App. 



2. After that, tap Register now to create your BTCC account .


3. Enter your email address and a verification code will be sent to you. Input the verification code and create a password for your account. Tap to agree to the terms of service, privacy policy, and risk disclosure. Then Register to proceed to the next step.

4. Complete the verification by dragging the slider.
5. You've successfully opened an account on BTCC.

How to open a BTCC account – Identity verification
6. Verify your identity by taking a photo of your ID. 
7. Next, fit your identity document within the camera frame. Tap Document is readable to continue with the verification process.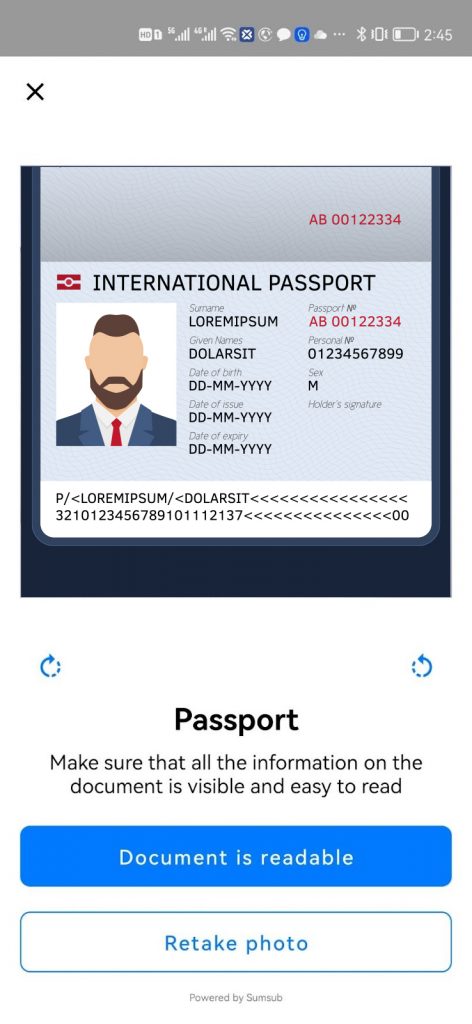 8. Then take a photo of yourself by positioning your face to fit the frame. 
9. The system will review your identity document and selfie. 
10. Finally, your data will be accepted after the documents are verified. 


How to deposit funds into your BTCC account with credit cards to trade crypto
Congratulations! You have successfully opened an account on BTCC. There are two ways to fund your account:
Buy Crypto with credit cards ➞ transfer the crypto to your BTCC account
Deposit crypto from your wallet or other exchanges to your BTCC account
Buy crypto with credit cards
1. Go to Me and from there you can monitor your assets and make a deposit or withdrawal of fiat or crypto.
2. Select Deposit and tap Buy under the Visa/Mastercard option

3. We offer various service providers for you to buy crypto with fiat currency, and they include popular choices like Transak, MoonPay, Mercuryo, and Simplex. Recently we have also added a new payment gateway Mastercard/Visa on our list to meet the growing demand of our traders.
With this new payment gateway, you can buy crypto in USD and assets can be credited to your account as fast as 1 minute. International credit cards are supported.
4. Choose your service provider, enter the quantity, and select your payment currency based on your country of residence. Fill in your particulars and your credit card information. If you opt for Mastercard/Visa, please complete 3D Secure (3DS) authentication as well as the payment by following the steps required by the bank.
5. Swipe right with the button next to I agree with Terms of Service. Tap Buy.
6. Congratulations! The transaction is complete. You may go back to the app to start trading.


Deposit crypto to your BTCC account
If you have crypto in your wallet or at other exchanges, you may go for this option to deposit crypto to your account.
Tap Deposit to make a deposit of crypto such as USDT/BTC/ETH/XRP.
2. If you are depositing USDT, you will see the available networks for this currency. Please choose the deposit network carefully and make sure that the selected network is the same as the network of the platform you are withdrawing funds from. That is to say, if you select the wrong network, you will lose your funds.
Copy your BTCC Wallet's deposit address and paste it to the address field on the platform you intend to withdraw crypto from. Alternatively, you may also scan the QR code.
View Live Chart Page
Here is the list of different crypto you can trade and their market prices. On this page, you can choose your crypto futures contract and track the live market price at any time. You can choose to go long when price is high and go short when price falls.
To see feed of previously executed trades on the platform, select a crypto contract (For example: BTC Weekly).
How to set crypto price alerts
Setting a price alert will inform you immediately when a cryptocurrency reaches a specific price so you won't miss any trading opportunities.
Go to Markets.
Select the crypto you want to set a price alert for. (For example: BTC Weekly)
Tap the bell icon next to Buy/Long.
Confirm to Add.
Choose your crypto alert type. Enter your Alert Price and select the frequency.
Save to set the alert.

How to adjust your leverage when trading crypto
You can adjust your leverage manually for each position. Choose leverage amount (10x by default). Specify the amount of leverage by tapping on 10x and tap the leverage amount.

Please note that operating leverage carries risks of liquidation. Adjust your leverage based on your financial situation and risk appetite.


How to apply the BTCC Conversion function
The BTCC Conversion function allows traders to convert the crypto they own into USDT within seconds. With this function, you don't have to go through the trouble of transferring crypto out of your wallet to convert them into USDT.

1. Go to Me.
2. Select Convert to USDT under the crypto you would like to convert.

3. To get a more precise quotation, choose the percentage you would like to convert (25%, 50%, 75%, 100%) or you can input your own exchange amount. The maximum convertible equals the available balance.

4. Get a quote.

5. Now you will see your conversion results, tap Confirm exchanges within 9 seconds to complete the conversion.

6. Confirm View assets now in the next window.

7. Finally, you will be directed to a page titled Exchange History, where you can view your previous successful conversions.
Market Order & Limit Order for crypto: How do they work?
In this section, we will talk about the different crypto order types you can set on the BTCC App:

Market Order
A market order is to buy (go long) or sell (go short) at the best current available price. A market order is placed by traders when they want to execute a crypto trade immediately. For example: I want to sell 0.25 BTC right now.
Limit Order
A limit order is an order to buy or sell at a specific price at a set time. However, there is no assurance of execution because the crypto order will only be executed at the specific limit price or higher.
For example: the price of BTC/USD is currently at $10,000 and you place a limit buy order for a limit price of $90,000, then your crypto order will be executed when there is a sell order that meets your limit price or a higher price.
Stop Order & Take Profit for crypto: How do these functions help?
Stop-loss order
A stop-loss order automatically closes a position when the market price reaches a specific level. In this way, traders can buy or sell a crypto when the market price reaches his predetermined level. Above all, this enables traders to calculate the position size he takes and manage risk before opening each trade/position.
Stop-limit order
A stop-limit order allows traders to set the minimum profit they are happy to take or the maximum they are willing to lose in their position. When a limit price is triggered, the limit order will be executed automatically (which is an action referred to as a stop). This means they can buy or sell an asset only after a specific price is reached. It also helps protect traders from losses or to lock in profit when the price of crypto rises or falls suddenly.
Take Profit order
A take profit order can be used in conjunction with other order types like stop-loss orders to give you more control over your crypto positions. You can manage your risk and lock in profits at pre-set price levels.


How to get daily bonuses and crypto rewards?
In addition, BTCC App users receive daily bonuses and crypto rewards by participating in four events.
Christmas Voucher Giveaway
This limited-time event allows traders to get up to 400USDT bonus by making a deposit of BTC, ETH, or XRP. There are a total of 5 vouchers available and traders can redeem all the vouchers at once by depositing 1BTC, 15ETH, or 60,000 XRP. Here is a list of the vouchers available for redemption: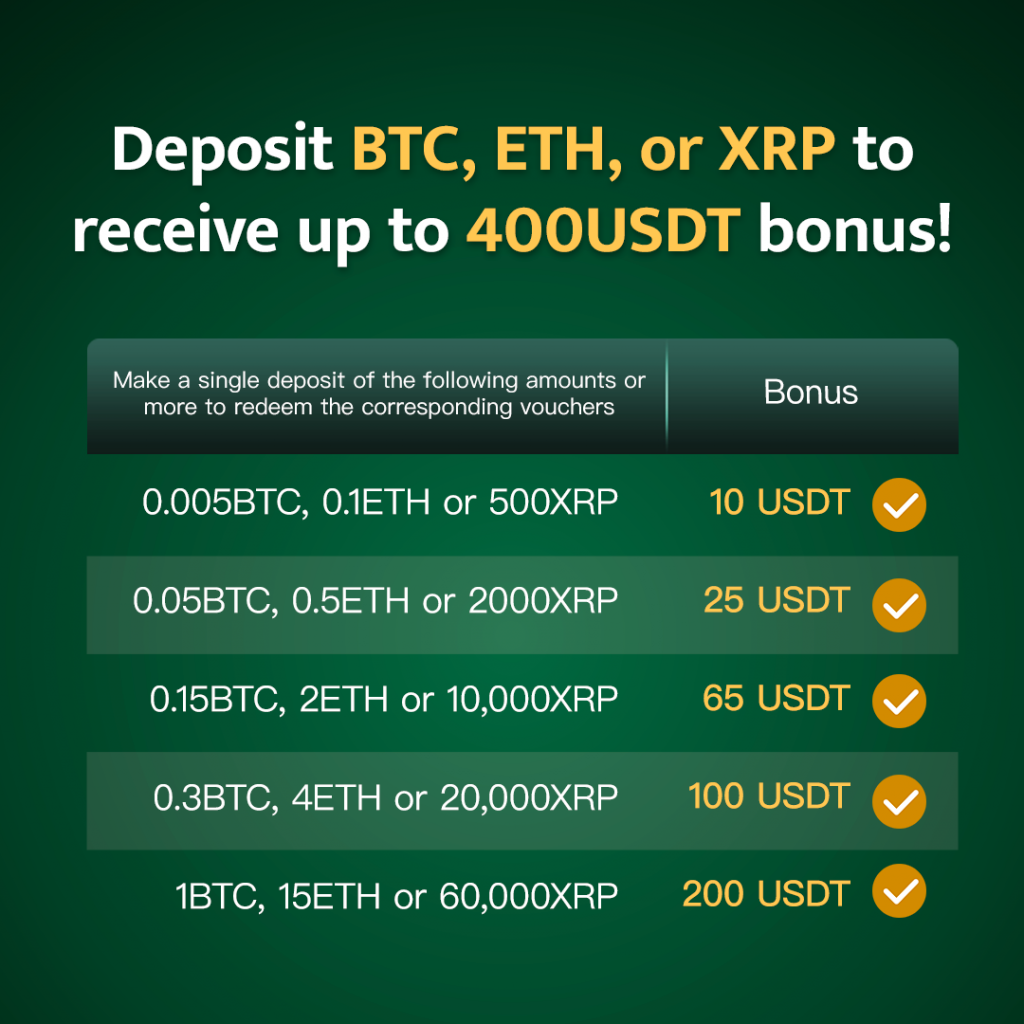 How to participate?
Go to the app and tap the event banner.
Make a deposit in the amounts of the corresponding vouchers that you would like to redeem. Once the deposit is made, the bonus will be available in the account immediately.
Daily Lucky Roulette
How to participate?
1. Tap the banner at the top of the BTCC app.
2. Spin the roulette wheel by tapping Go.
3. Redeem to claim your bonus. Spin the roulette wheel for a maximum 3 times every day.


4. Go to Me.
5. Select All Asset.
6. Here you can check your lottery bonus.

Earn 10 USDT
During the lucky draw period, you can earn 10 USDT either by depositing ≥0.003 BTC (or ≥0.04 ETH ≥100 XRP) or purchase fiat currency ≥ 100 USDT.

Each user is entitled to redeem funds once. Upon redeeming, the funds will be posted in your BTCC account, where you can use to perform trade and withdrawals.
How to participate?
1. Tap Me on the BTCC app to start your process of redeeming your 10 USDT.
2. Tap Deposit next to your cryptocurrency of choice.



3. Copy your BTC wallet address or scan your QR code to deposit ≥0.003 BTC (or ≥0.04 ETH ≥100 XRP) to complete the deposit. After that, 10 USDT will be deposited to your account the following day.
Transaction cashback campaign
All users who trade during the campaign period will receive a 15% commission refund within 24 hours of the next business day of the crypto transaction and can earn up to 500 USDT.
EX: If John's transaction fee is 1,000 USDT on Sept 10, the rebate he will get the next day is 150USDT. Before the event ends, if his transaction fee reaches 20,000 USDT, he will earn 500 USDT.
Are you ready for crypto trading?
In conclusion, trading cryptocurrency is a highly profitable activity. The BTCC app is the perfect platform to start your trading journey because of their all-encompassing functions (leverage, different order types, convert function etcetera). Open an account today and start trading your favourite crypto.