Invest $100 Make $1200 A Week: Is It possible?
Explanation of Bitcoin leverage trading
CFDs, Contact for difference are financial products that offer traders and investors the possibility of using leverage to speculate on an asset without physically holding them.
They're popular with Forex – foreign exchange, but quickly becoming popular with crypto-assets like the Bitcoin BTC.
Bitcoin leverage trading makes it possible for trades with less capital and those with a trading edge to buffer their trading capital starting from 2X and up to 100X.
Let's take an example.
A $1000 account with 2X leverage would buffer your capital to $2000, and a 100X leverage would boost your trading equity to $100,000.
Another benefit of Bitcoin leverage trading is taking short-sell positions, which allows you to profit if you anticipate a short-term collapse of the Bitcoin price.
Taking short sell-positons is something you can't do if you were trading solely on the spot BTC market.
So, for me, even though I'm a firm believer in BTC as a digital store of value, I would occasionally trade BTC futures on leverage as a way to manage risk and ride the short-term up and down BTC swings.
However, this takes some skills, which I would share in this post.
How I deposited $100 on the BTCC crypto futures trading platform and earned $1200 in a week using leverage on the Bitcoin contracts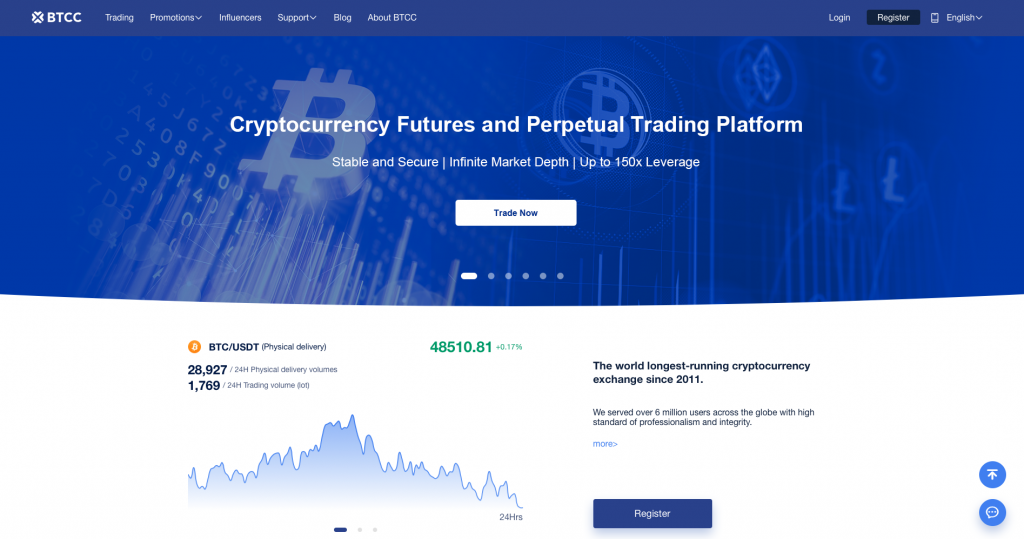 Like I said in the intro, I trade BTC futures as a way to benefit from the leverage and profit from short-term swings without putting all my BTC holdings on the line.
Here is how I got started on the BTCC crypto exchange.
First, I didn't want to trade soley on my own capital, so I looked out for a crypto broker that would allow me to trade on leverage to manage my risk and quickly scale up my capital.
Having $1000 in my crypto wallet, I decided to deposit $100 out of my $1000 into my BTCC crypto derivative account and took a 50X leverage, which gave me $5000.
Keep in mind, for me to go bust, the BTCUSDT exchange rate would have to go against me by 2%.
Understanding this, I realized I had to trade off the lower 5minute time frames for my entries where the price moves an average of 1.5% from a swing high to swing low, with a goal of trading when the pair exits RSI overbought or oversold zones.
Most of the trades taken were in the direction of a significant uptrend identified by a golden cross of a 20 and 50 period Moving Average.
Buy trades were entered when the BTCUSDT price traded below the MA20, MA20 is above the MA50, and the RSI (4) is in the oversold area.
Sell trades were entered when the BTCUSDT price traded above the MA20, MA20 is below the MA50, and the RSI (4) is in the overbought zone.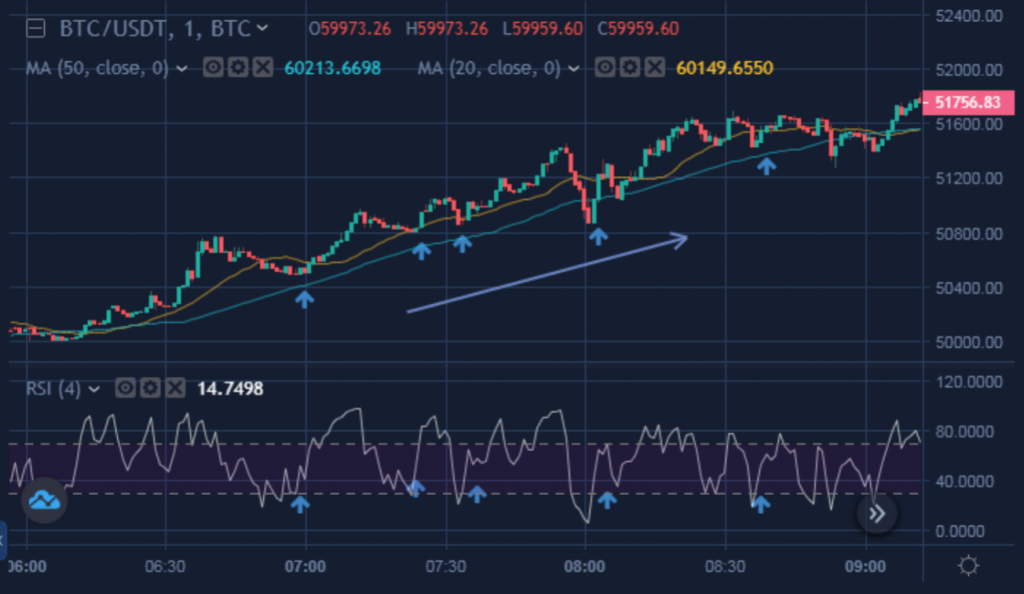 I also included bullish and bearish divergence patterns and be more aggressive when there's a confluence of events.
I guess there was a bit of lady luck at play when I started.
Occasionally, I would also wait for significant chart setups on the higher daily and weekly time frame as triggers to initiate a bullish or bearish campaign.
A bullish inside bar pattern on 06, 03 '21 was significant to my success, as the bulls continued to hold on as the BTCUSDT exchange rate increased.
Below are some of the levels that I took positions at and that I think are worth mentioning here.
I identified regular bullish divergence patterns on 07 March '21 21:05, 10 March '21, 13 March 21 02:25, and immediately jumped in.
I scaled into the position on 13 March '21 07:20 after identifying another bullish divergence pattern, signaling a continuation of the uptrend.
Conclusion
So, I made 24% of $50000 in a week by injecting a 50X leverage to my $100 initial deposit.
Although I consider myself lucky to achieve this feat, I would also say that I had a game plan, understood the risks involved, and I still had $900 left in my crypto wallet to put in another hundred bucks if it didn't work out.
Now, I trade with the house money, and I'm extra careful at this point.
So to answer the question, is it possible to turn $100 to $1200?
The answer is YES!
However, to not sound like a broken record, you must have a game plan and never rely on wishful thinking.