Filecoin [Futures] (FIL): Everything You Need to Know
Filecoin – the decentralized storage network to match your needs
Finding the right storage is essential in today's world. In the launching stage, the upcoming Filecoin is the solution to human's data storage requirements. A powerful and dynamic distributing cloud storage network solution, Filecoin can be used for storing contractual information, personal files, company-related files, websites, podcasts, application databases, security archives and even public datasets! Not just opening up the cloud-hub for you to access but making it convenient and secure, meeting all the data-related requirements that you could think of. You can read the project's whitepaper here.
A decentralized cloud storage system where IPFS (Interplanetary File System) are combined with peer-to-peer distribution network protocols, making the entire system more secure where the corporate panel no more has the authority on the system protocols – the power of decentralization.
With everyone being allowed to participate, Filecoin introduces an extreme competitive environment for the businesses where cryptographic storage proofs being recorded and stored correctly provide an edge to Filecoin users.
Other related cases of usage of the Filecoin include data exchanges, Humanity data storage, standard blockchain use cases, payment base, time-stamping and storage of value.
The ICO (Initial Coin Offering) of Filecoin took place over 03 years ago in 2017 and was considered to be the most successful ICO to that date, raising $257 million. This broke the previously held record of Tezos which had raised $232 million in the same year. Interestingly, the price of the ICO was designed to raise by every $40 million that the venture managed to raise, starting from $1 and adding $1 for $40 slot filled. The price was finally capped at $6 per token. It is amongst the fewest projects which have made to the Forbes. Read here the Filecoin ICO, Launching Next Week, Aims To Resolve Token Sale Problems, published at Forbes in Sep'17.
The current price of Filecoin based on different exchanges is $24 which shows that even if the maximum price is taken for calculation purposes, even then the project has managed to gain 4x over the last three years for its hodlers (spelled out like that in the crypto world for people who hold).
Is being able to use the Filecoin Tokens into business the only way of benefiting from the project? NO! Why did you not think about it? Look at the chart below showing price movement of the Filecoin Token over the last three years: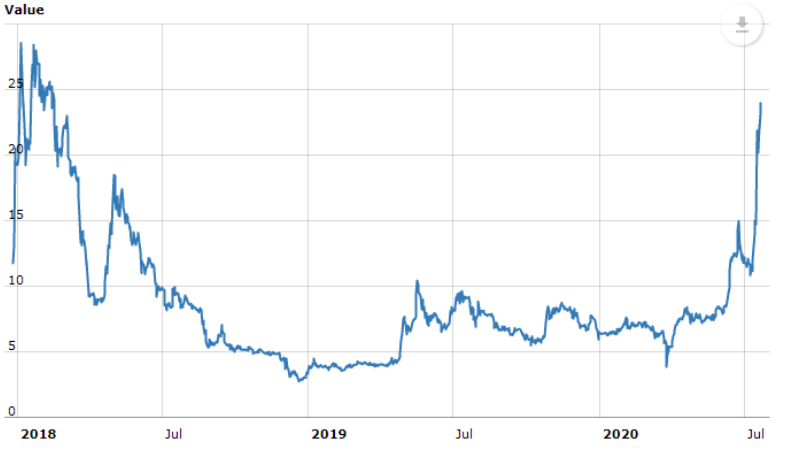 Looking at he above graph, it can be seen how the $6 (max price of ICO) escalated quickly to $29 in the early 2018 following a mass depressed move and then side-ways movement for over two years. Right after two years of accumulation, we have finally witnessed a spike which has led the coin to already give a gain of nearly 5x in a few months' time (From Q1CY20 to date).
How could you have benefitted these moves? How can you benefit from the moves coming ahead? This is the question that should have come to your mind of you are a true trader! And, the answer is – by trading it!
You can just not trade the Filecoin by holding it but can also trade Filecoin futures contracts at BTCC!
Just in case you are not aware of what future contracts are – these are options, priced at the underlying asset's price movement, allowing you to use leverage for trading your favourite. Similarly, the future options of Filecoin available at BTCC.com opens up avenues for you where you can take benefit of such movements to benefit yourself. Who would not want to take benefit of such an amazing opportunity?
Just in case you are looking to purchase Filecoin for yourself, there are many exchanges that support coin trading on their platforms. This includes Gate.io as an exchange which has the major volume coming in for the coins.
There are also exciting opportunities available for miners when it comes to Filecoin. Since the Filecoin network is designed to achieve staggering economies of scale by allowing anyone to participate as a storage provider and monetize their open hard drive space, miners can earn good money through combining disks and other related hardware for winning storage deals and Filecoin tokens as rewards. Owners of personal computers to large racks and rigs, all are welcomed by the project. You can learn more on mining Filecoin here.
Looking to trade but not very sure if you would be able to make money on your trades? Guess what – The BTCC exchange has come up with an exciting available opportunity of allowing the traders trade on a trading simulator. Yes! The Filecoin futures are now available on the trade simulating application powered by the BTCC exchange.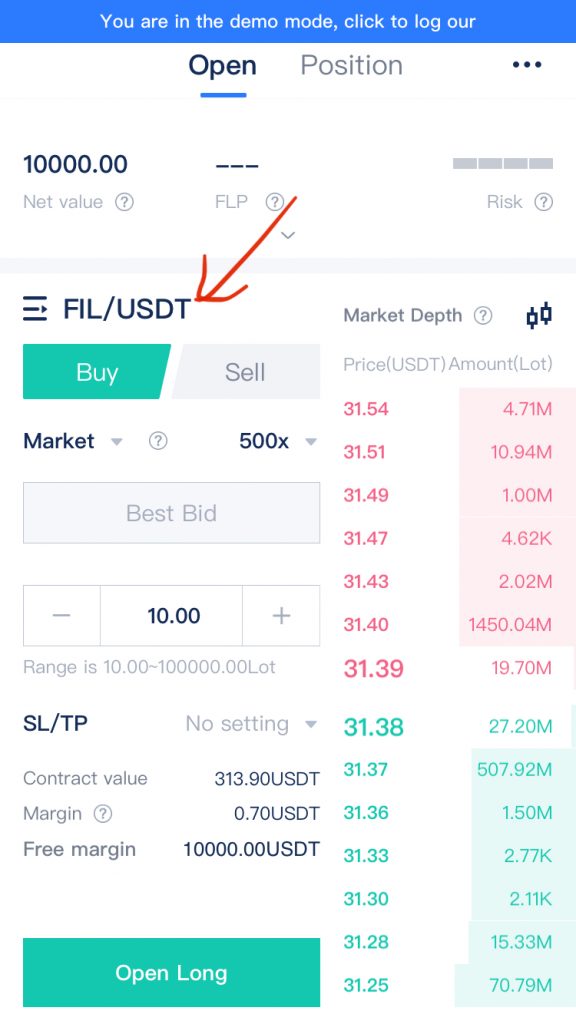 Not just you can try your luck but can as well build up your trading strategies and ideas which can be put to test by trading on the powered simulator application platform that BTCC solely brings to you. Practicing the available graphing/charting tools, coupled with options to trade that as well on leverage to test your skills, couple yourself with the right experience and to give you strength to be able to trade the upcoming potentially real-life experience of trading. Trading is an art that not everybody possesses. Some may be blessed to do so; the rest can always make their way through the lead by being fearless and having the right systems with strategies.
Committed as ever, BTCC puts up the challenge of coupling its clients with the best available tools. And this trading simulator is amongst the very available opportunities that you may want to grab for your practice, skill-testing and experience. Don't think – Get along today.
Disclaimer: Trading in real-life with actual assets can be dangerous. Using leveraged contractual positions may lead you to incur heavy financial losses if not properly taken care of. Having rules set-up with appropriate trading strategies is a must. Consulting your independent financial advisor can help you further strengthen up your decisions to trade.