Ethereum – Ready For A Star Bull-run?
Ethereum project remains the second most important cryptocurrency
Ethereum platform serves programmers, Enables Smart Contracts
Ethereum's currency: Ether (ETH) is trade-able and offers great volatility to traders
ETH long-term break-out is on the edge, the currency is likely to post a strong bull-run (author's view)
Ethereum is argued to be the second most important cryptocurrency of the Crypto-World. Having launched in 2015, Ethereum is an open-source decentralized software platform based on block-chain which uses its own cryptocurrency. Ethereum's blockchain service offers Smart Contracts and Distributed Applications (DApps) for helping build projects further. Ethereum's blockchain services offers the contracts to run without delays, chances of fraud and supports a system which can not be interfered from third-parties.
Ethereum as a project is just not a platform for the Crypto-world but actually a programming language which runs on the block-chain technology. Ethereum platform takes pride in being able to securing, decentralizing, codifying and trading anything that wants to be built on the blockchain that Ethereum offer.
Ethereum is believed to be a project that is to stay for a very long time, termed as sustainable. Today, it believed to be the largest (and the pioneer) blockchain which is optimized for programmability (which is enabling digital contracts).
Ethereum has its own cryptocurrency; Ether (ETH), which can be used on the platform as well as for trading.
From its launch in 2015 till Feb'2017, ETH remained under $15 where the movements were not wild like the ones which followed in the bull-run. Between March 2015 to January 2018, ETH went on a bull run where the price reached as much as $1,400/ETH (posting a gain of nearly 10,700% or 100.7x in a matter of ten months). Assuming someone had $1,000 worth of ETH which were purchased at $10, his value would have risen to as much $150,000 within ten months period, giving a nearly annualized gain of 128.4x!
Post the bull-run and All-Time-High (ATH) in January 2018, ETH retraced back its move above 78.6%, finding its support at ~$90 (once in December 2018 and the other time in March 2020). Since ETH came below $350 in 2018, it has majorly moved sideways between the range of $90 to $350, showing a longer-term accumulation as a likely situation.
Currently, ETH trades between the range of $230-$250 with signs of strong accumulation on cards, getting ready for a break-out in my opinion.
Looking at the current chart (Figure 2), possibly the first intimation to breakout has already occurred and the retesting has already been done. This puts forward a sign for ETH to be getting ready for a very strong move ahead with a possible target of $570 (this is the opinion of the author).
Understanding the possible scenario, ETH needs to break above $320 and sustain the point for a weekly closing to build up the momentum it requires for such a wild move ahead.
While the long-term floor has been established to price of ETH at $90, there is now a very firm support for ETH between $180-$190 which would act as a strong demand-zone from the bulls over the longer-term horizon (given that the price goes down to that point).
Observing the daily trend of ETH (Figure 3), we see that it has already broken out above the EMA200 (pink line)/EMA100 (black line) and EMA50 (yellow line) on the daily time-frame. Currently, it takes support from the EMA50 and has been posting bullish reactions. With EMA50/100/200 already in line and ETH already trading above it, these are signals exhibiting possibilities that the bullish momentum on the Daily time-frame has already initiated and would soon be transferring on the longer-term timeframes (the weekly and the monthly) which would then post wild moves going ahead.
ETH has been known to provide many opportunities for the trader:
In order for to make money, the basic need is the volatility. If there is no volatility, the trader can not make money. Just looking at the time duration between July 5 to July 13 (an eight-days period), ETH has given 3 wild volatile moves where first one was of ~11.4% on the rising side, followed by an almost ~5% retracement and the third move currently is ongoing and has already posted a ~3.5% move for the traders on the long side.
Imagine how much money a trader could make given that he has something as volatile as this to make money?
The best way to make highest returns for a trader is to use the future options of the underlying asset he wishes to trade. In this case for ETH, trading the future options i) allows the trader to take benefit of the both-side moves; long and short, ii) helps the trade obtain leverage position (buying x-number of contracts) and iii) have low cost of capital and trade.
If you are looking to trade future contracts of other available crypto tokens, BTCC offers you pairs of 9 major cryptocurrencies. This includes Bitcoin, Ethereum, Litecoin, EOS, Bitcoin Cash, XRP, ADA, XLM and Dash. As long as you find an opportunity to enter, the offers and services that BTCC provides you, are irresistible to let go on.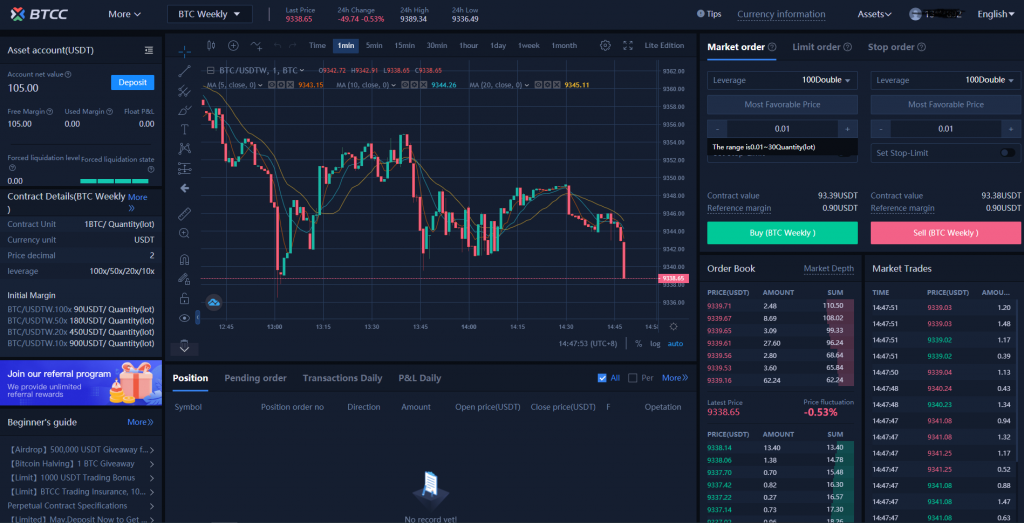 BTCC already having proved itself as amongst the leading exchanges which have always been ahead in innovative ideas and security protocols offers the traders the care that they deserve. From an outstanding platform the unmatchable client service, you would definitely want to take your bet on the BTCC for your future options trading related to cryptocurrencies. And, guess what? Upon signing up you receive a bonus of $1,000!
Do not miss the opportunity!
Trade Bitcoin Futures on BTCC Today and Get 1000 Interest-free USDT
Disclaimer: There are risks attached in investing, trading and speculating. With hefty gains, there is always a risk of losing your money given that you are not adequately taking care of it. It is still the right attitude to ensure that you follow safety measures which could include using technical entries, stop loss(es) and targeted exits. Understanding leverage is significant. Consulting your independent financial advisor before entering into any commercial trade may remain an excellent option to consider.