Cryptocurrency Market – September 2021
6 Sept. 2021 – Bets for later Fed taper helps to boost Bitcoin back above $51k.
( Source: TradingView)
The price of Bitcoin closed at above the $51k level for the first time since May 12 yesterday. It could attribute to the U.S. nonfarm payrolls increased by just 235,000 in August, compared with a 728,000 median forecast by economists in a Reuters poll. Investor's bet for later Fed taper due to the Fed has made a labour market recovery a condition for paring back its pandemic-era asset purchases. Therefore, Bitcoin is likely to benefit from a very low-interest-rate environment.
3 Sept. 2021 – Would Ether become a safe haven before U.S. Nonfarm Payrolls?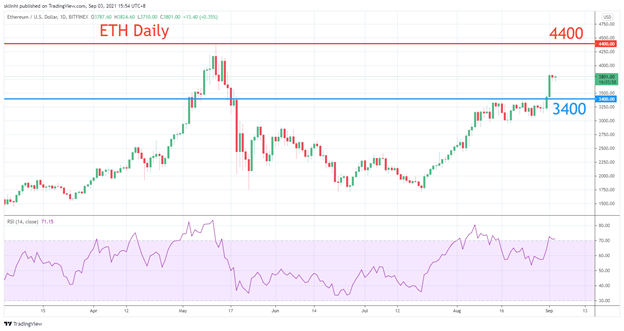 ( Source: TradingView)
The price of Ether keeps hovering around its 3-month highs above the $3.8k level at the time of writing. Additionally, Ether has rallied more than 17% for the week while other major indices remain relatively silent, waiting for U.S. Nonfarm Payrolls tonight. It tells that the investor believes the economic data would have a minor impact on this crypto asset. Therefore,  Ether could lure more funds into it before U.S. Nonfarm Payrolls releases as the safe-haven asset consideration.
2 Sept. 2021 – A more than 11% rally in Ether's price tells a significant bullish signal.
( Source: TradingView)
Ether price closed at above $3,800 and hit 3-month highs yesterday. Continuation outperforming Ether's price movement against Bitcoin is undeniable that Ether is leading the crypto market instead of Bitcoin. The optimism market could not only drive Ether to challenge its all-time high at $4,373 but also help to break the total crypto market cap around $2.12 trillion.
1 Sept. 2021 – ETH seems to decouple with Bitcoin and leads the crypto market to continue to rise.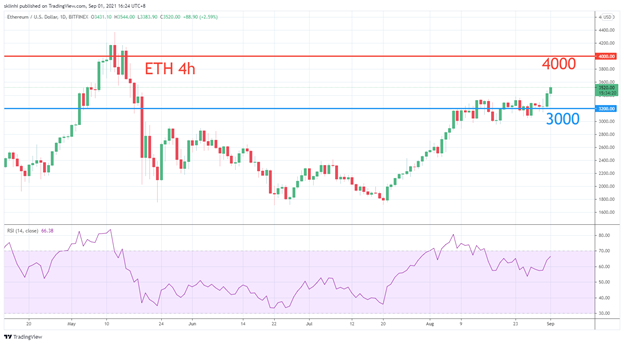 (Source: TradingView)
Ether breaks the $3.5 level for the first time since the 18th of May. Unlike Bitcoin suffers capital outflowing from institutional investors, Ether's product has become a parking place for funds withdrawal from Bitcoin. Broader and more precise application on the Ethereum network makes Ether more attractive than Bitcoin, especially after the London upgrade. Therefore, Ether could replace Bitcoin as the primary force to lead the next run-up for the crypto market.