How to Buy More Cardano (ADA) Using Leverage
Cardano ADA sits among the top-ten digital-assets as of month one of quarter four 2020. As an overview, ADA has been doing well since its launch in September 2017.
The blockchain running ADA finds a general nexus among the significant bests- aside from facilitating users to transfer money, it also runs smart contracts. Therefore, ADA comes in strongly to bring in competition and innovation elements where Ethereum blockchain dominates- smart contracting.
The critical growth into a positive trajectory has been the rise of digital assets and their dominance into traditional finance's high benchmarks. ADA falls among the valuable assets you can take on trades with leverage. Quite outstanding, though, blockchains are in their second decade yet, causing huge ripples across boards.
Using Leverage to trade Cardano ADA is a way to win a big contract with a small investment-the margin. Leveraging is a killer strategy that's been there for years. And it's essentially borrowing to trade. Therefore, the same noble concept of borrowing to trade emerges within the current shifts in investments within the crypto-sphere with the buying of assets like Cardano.
Platforms that allow buying of Cardano ADA allow traders to stake upwards on each trade with specific limits that place precise multiples of the numbers to which you can up-stake iteratively per commitment of an open position.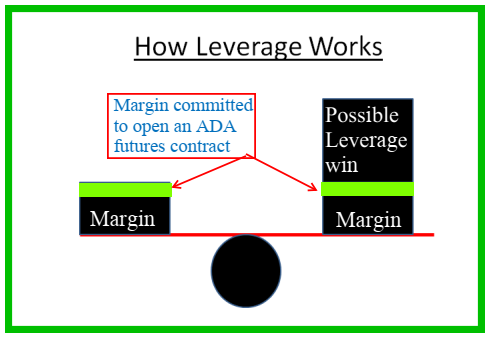 Point of caution: Leveraging is a fantastic tool. However, traders should take due diligence and timing to master the techniques to win more trades than they lose. When you trade Cardano ADA on Leverage and can double your demo account earnings with ease, get ahead to fund a live account and ride your way into professional trading success.
Leverage is, therefore, a tool that you deploy with great caution. It requires a balance of many hats concurrently. You have to trade on a mind that is at ease. Know your trading timelines- whether scalp in day trading, go for weekly positions, or as many months. It all depends on the correct intuition.
The Advantages of Investing In ADA Futures Contracts Over ADA Coins
Business landscapes are ever diverse. Investors have two opportunities to earn with ADA in the picture.
One can either buy and sell  Cardano ADA coins.
Stake on Cardano ADA futures on credible platforms like BTCC.com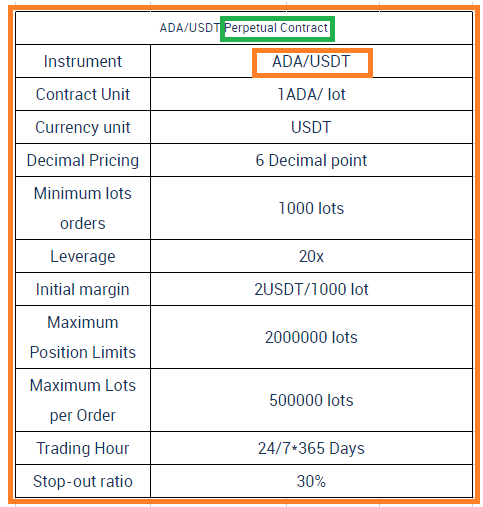 And traders may wonder what pro-points favor entrants and create entire shifts in global markets. Here are the advantages of taking on investments with ADA futures as opposed to the coins.
ADA futures contract traders do not tie traders to hold the assets at hand. It happens in a very seemingly risky way. But, remember the more dangerous an undertaking, the higher the probable returns. If you holdl coins under the ADA blockchain and values nose-dive, you lose the value to the charts' bottom. While at the same time, smart ADA contract speculators will be enjoying every move downwards. It's this very feature that allows speculators to take contracts whenever they feel it's right for them. Else, they stay safely away.
Staking on ADA futures allows a speculator to own the coins, albeit left behind at the ICOs stage. Instead of exchanging fiat for ADA coins, traders can stake with price shifts and end up being a mainstream holder of a colossal amount of ADA coins-eventually.
Base infrastructures for ADA coins are separate from data storage for ADA transactions. Therefore, data compromises at any level will have minimized significant spillover implications. It gives ADA future contracts a better plane of stability, away from manipulative factors.
Concrete Loss hedging tool with ADA futures- offer a category of super-investment vehicle for minimizing risks in ADA coin values one owns with instances of significant fluctuations in prices.
Brief Guide on Trading ADA with Leverage on the BTCC.Com
BTCC provides users with opportunities to trade Cardano ADA perpetual futures at hefty leverage of 150X.
It's easy; all you require is to open an account with our platform. Lucky enough, BTCC is a trusted exchange and has your back – we have the lowest of requirements for KYC.  BTCC ranks among the first exchanges to roll out into the market and steadily grow along both decades of the blockchain era.
BTCC is secure enough, with no significant tale or incidence of digital assets losses whatsoever. It is part of the very reason the platform continues to appeal to users. Alongside crypto-security pursuits, BTCC has a side project – the Mobi wallet, to help you take advantage of our unrivaled security scores across the entire crypto-sphere.
Verify your account and Get Going with Staking with Cardano ADA Futures Contracts.
You have two easy options: use a valid email address or your phone number.
That should take you less than a minute.

Upload Funds to Your Account
With an approved account, you are good to go. For your information, BTCC works with USDT, one of the best Stablecoins as the base crypto-currency. And USDT helps us create logical nexus between value fluctuations within the entire- crypto-sector.
Luckily enough, watch out for the platform giveaways that take place from time to time.
Pro-Tip: Subscribe to our Twitter feeds to get instant notifications to that. You can claim as high as USDT 2000 in rewards from a minimum deposit of USDT 500.
Pro-Tip Two: After funding your account, do not press on positions arbitrarily on the BTCC platform.
Smart speculators have the following concrete tools:
They have schedules drawn out.
Commit no more than 2% margin for all concurrent open positions
Take time to catch up on economic happenings across the entire economic divide.
Become a Professional Staker Courtesy of Your BTCC Account
With an active account, you stand many opportunities. Aside from trading Cardano ADA, you may take on the following futures: BTC, ETH, XRP, BCH, and LTC.
If you've done ordinary forex, staking on ADA futures contracts on BTCC should be a downhill task for you. Explore the variety of orders – limits, stops, and by market. All these allow you to figure out where you win best – and capitalize on that type of order.