How to Get Started with Trading Bitcoin Futures on Leverage in Germany
According to our research on Google trends, Bitcoin became popular in Germany around November 2010. However, the number one cryptocurrency attained mainstream adoption in late September 2017, just as it did worldwide.

At that time, traders, investors, and enthusiasts could only buy Bitcoin from the spot market, and there was no easy way to short-sell Bitcoin during the 2018 crypto winter.
There were rumors around some German companies launching bitcoin futures around late 2017 and 2019, but the ones that made it were the CBOE and the CME in the United States.
These days, finding an exchange to trade Bitcoin futures as a German resident is a no-brainer. However, you must ensure your crypto investment is safe with a reputable company without a conflict of interest.
This article will walk you through getting started with Bitcoin futures trading if you reside in Germany.
Where to buy and sell bitcoin futures in Germany? 
As a German resident looking into trading Bitcoin futures, you'll definitely need a reliable crypto brokerage firm that offers competitive leverage, ease of withdrawal/deposits, and excellent order execution, then look no further as we have the right brokerage company for you.
The BTCC crypto Futures exchange allows you to earn from the increase and decline of the Bitcoin price and other cryptocurrencies like Ethereum, Litecoin, and so on.
BTCC crypto exchange has intuitive web-based Trad and mobile trading platforms powered by Tradingview to suit any trading style.
BTCC offers Bitcoin futures as either regular (daily/weekly) futures contracts and perpetual futures at an attractive maximum of 150X leverage. The company also provides leverages in the range of 10X and 50X for traders with low-risk appetite.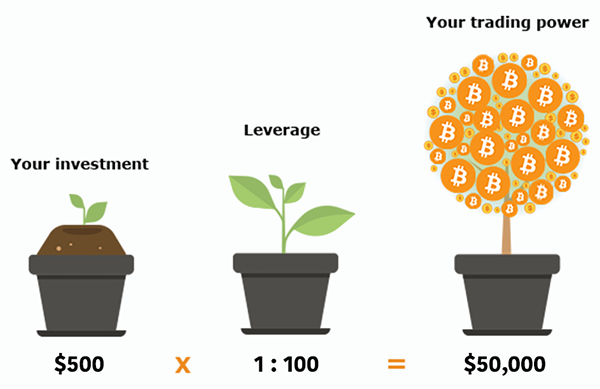 You can begin by following the steps in the next section.
A brief guide on how to use BTCC to trade bitcoin futures in Germany.
Getting started with trading Bitcoin Futures on the BTCC crypto exchange, you must first sign up for an account on the website by visiting BTCC, where you can register with either your email or phone number.
After entering your email address, you can then advance by clicking on the home page's trading button to launch the web-based trading platform giving you access to all the different trading features.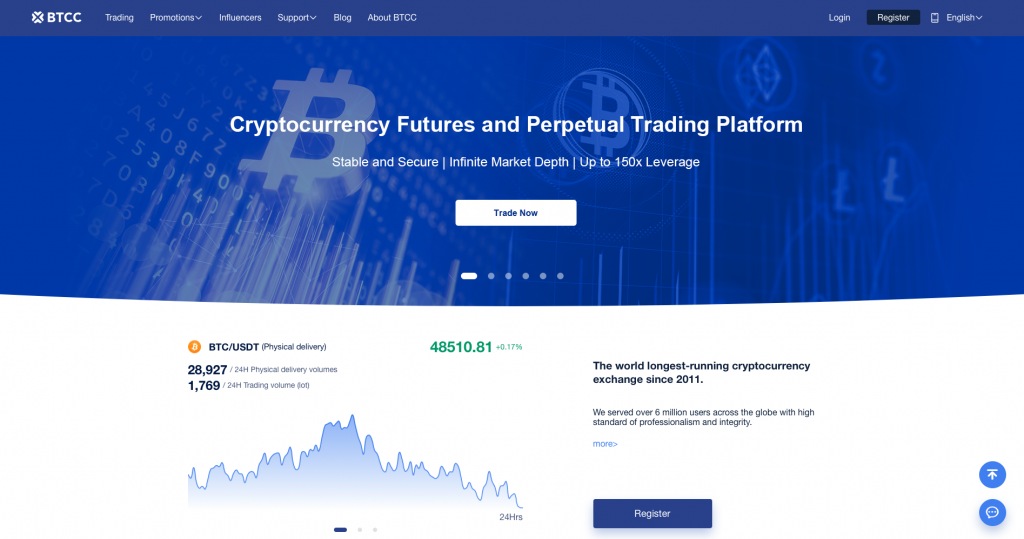 Such trading features include choosing the type of Bitcoin futures (daily/weekly or perpetual futures) and other trade execution functionalities.
Let's dive into the details.

After you've set up a Futures trading account on BTCC and launched the trading platform, the next step is to click on the dropdown menu shown above and select from a regular or perpetual futures contract.
Remember, with a perpetual futures contract; there's no restriction to how long you can hold a trade; that is, no expiration date.
It simply means you can leave your buy or sell order open for as long as you can meet the margin conditions.
So, let's take a scenario where you've completed some form of analysis on the Bitcoin crypto asset, which could be technical analysis, on-chain analysis, or some other fundamental ideas, and you decide to buy into the rising trend of the BTCUSDT.
Order panel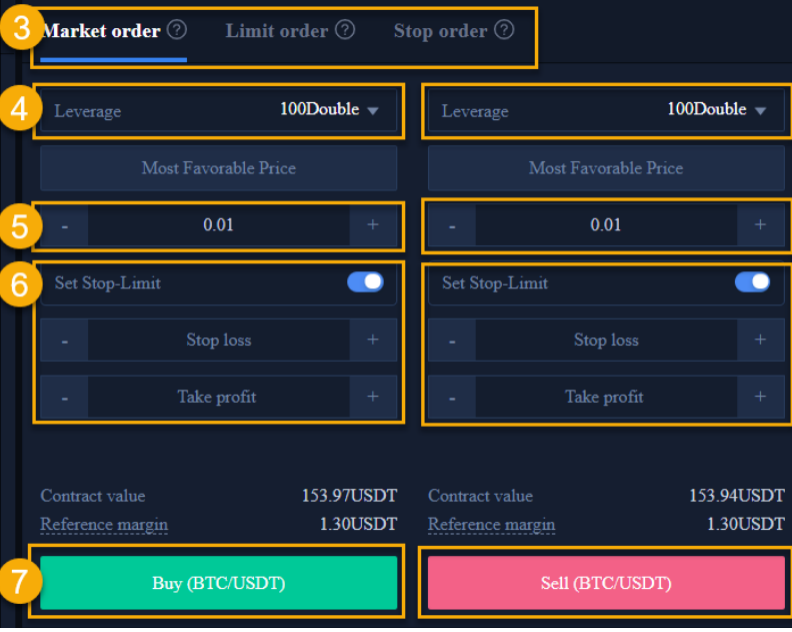 You can click the order panel on the right-hand side of the trading terminal and choose from a pending or market order type.
As a reminder, market orders, which can be buy or sell orders, are executed instantly from the order book, while pending orders which can be buy/sell limit or buy/sell stop orders, won't get filled until the current bid/ask price gets to the price level.
To activate an instant market order, we set the desired leverage, enter the amount of BTC we are looking to buy, and click the buy button to execute the trade.
Pending Orders
Setting pending orders depend on what you expect the crypto asset (BTCUSDT) to do.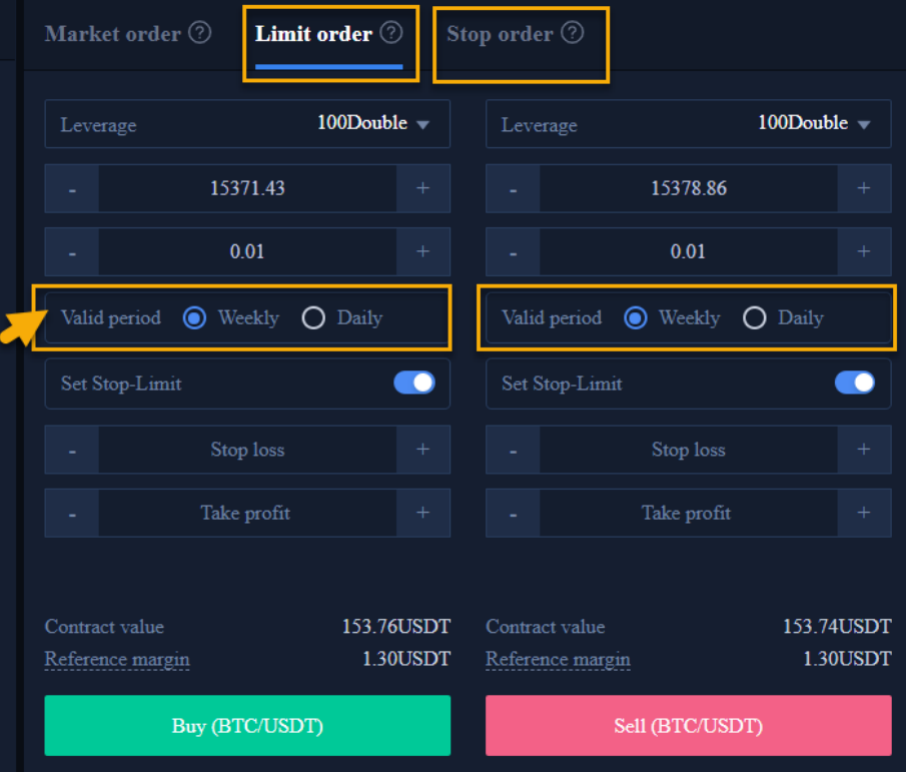 If you anticipate that the Bitcoin price would bounce off resistance or support, you can deploy a limit order. Picture this as throwing a ball on a wall or bouncing it off the floor.
On the other hand, pending stop orders are often placed when we expect a cryptocurrency, e.g., the BTCUSDT, to continue in the same direction.
Take-Profit, Stop-Loss & Order Execution
Do not forget to set your desired take-profit and stop-loss level for your BTCUSDT buy trade before hitting the buy button; note that the stop-loss and take-profit order settings can be edited after your transaction is triggered.

After entering all the parameters, you can move on to click on the Buy or Sell button.

So that's it, folks; there's a reliable crypto broker for you as a German resident, so head over to BTCC.com if you haven't already. 
Go for a free account on BTCC and start your first Bitcoin futures trading. New users will receive up to 2,000 USDT deposit bonus!