How to Trade Bitcoin Futures on Leverage in Netherlands
Trading bitcoins is now becoming the favorite conversation in the pub or at a table at a party. Everyone has seen the unprecedented increase (and also decrease), and some have also benefited from it. The current way to trade in cryptocurrencies is via an ' exchange ' or, as we often see for fast traders, by means of Futures contract or CFD.
The leverage at CFD brokers has been reduced to just 2x. We see more and more new parties entering the market where BTCC is the newest sensation in the future field, where the leverage can be 'increased' to no less than 100x. You can open an account for free! Please note that deposits (and withdrawals) must all be made via bitcoin with this exchange. This does not have to be an obstacle, because you can buy it super easy with euros and iDeal via Bitvavo
In addition, the Bitcoin future has been listed on the American futures exchange CME (Chicago Mercantile Exchange) since December 11, 2017 and you can trade here with an investment account with, for example, DeGiro or Binck. Please note that the minimum purchase here concerns 5 bitcoins, which is currently a value of no less than 50,000 euros (August 2019). Partly because of this high entry, we rather recommend an exchange such as BTCC .
How reliable is Bitcoin?
It is of course very important to know what you are investing your money in. After all, we have already had enough frauds in the Netherlands, whether this concerns Teak, life insurance or the fraud by, for example, Madoff. Therefore, know what bitcoins are and how it works. A major criticism of bitcoin is that the currency is completely anonymous and the currency is not regulated. The euro, dollar or any other currencies issued by a country or union are regulated and therefore widely accepted. Of course you cannot just pay with your Polish Zloty in the Netherlands, but these coins are (relatively) easily exchangeable for euros.
The financial world is very suspicious of the cryptocurrencies and the warnings follow each other quickly. The CEOs of global investment banks warn of the danger of cryptocurrencies.
But we also see warnings in the Netherlands. The Netherlands Authority for the Financial Markets (AFM) has issued a warning to investors in ICOs. ICOs are Initial Coin Offerings, and comparable to an IPO as we still know from Nina Brink with Worldonline. Incidentally, warnings are only made for the new IPO of the crypto coins and not specifically for investing in ' virtual money '. Of course, people indicate that this involves risks, but this is mainly mobility.
The financial industry and Bitcoin futures contracts
The financial industry probably feels they are going to miss something if they don't jump on the train called bitcoin. The large 'derivatives exchange' CME (Chicago Mercantile Exchange) has therefore indicated that it wants to introduce a future on the bitcoin. This would mean that the bitcoin will be traded on a regulated exchange and so that the banks and other financial institutions can also trade in bitcoins. This market is now already active and a new initiative is coming which could give enormous growth for the entire crypto market -> Bakkt . This concerns a regulated market in bitcoins and other cryptos, which can be fully traded via Euronext ICE.
Futures are products that are linked to the rate of, in this case, bitcoin , but this can also be to the S&P 500 or the rate of EUR/USD. Every day the profit or loss will be settled with you. So if you buy a future for 10 bitcoins and the exchange rate rises 100 dollars, you will receive $ 1,000 in your account the next day, and vice versa. That is why you must also have enough money in your account to close a future.
At the moment, the largest trading place to trade bitcoin futures is BTCC. Here you can trade with a leverage of more than 150x! Open an account now for free! In the near future, Bitcoin will be more and more accepted and this will also increase trade. In addition, there is a maximum of bitcoins available (21 million) and these new possibilities will increase demand while availability is maximized.
How does futures trading work?
Futures are not a product in themselves but are more a derivative (derivative) of a product. The image below is the home page of BTCC Crypto futures trading platform. We will discuss BTCC, the platform in the image, later. 
If you expect the price of Bitcoin to rise, you take a long position. You then make a profit when the price of Bitcoin actually rises.
If you expect the price of Bitcoin to fall, you take a ' short position '. You then make a profit when the price of Bitcoin actually falls.
In addition, it is possible to strengthen the positions you take with a leverage effect, called 'leverage'.
What are leverages?
The term leverage is probably a well-known term for the (very) experienced trader, but we will take you into the concept for a while.
When you take a position, it is possible to use leverage in futures. You thus amplify the effect of your position by 2, 5, 10, 25, 50, or 100x. So if you take a position that gives you a return of €15 after a certain time, that effect can be enhanced by your leverage effect. When you have used the leverage of 10x, you do not earn €15 with that trade, but you earn €15 x 10 = €150.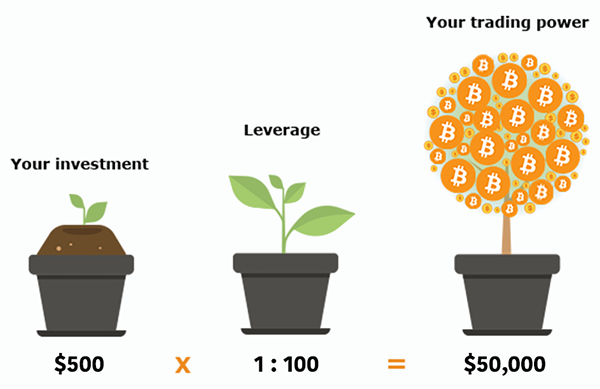 The interesting thing about futures is that you can achieve a relatively high return with a relatively low investment. Of course, there is also the risk of leverages. So you can also suddenly lose 10 x € 15 = € 150 with the trade if it goes the other way.
Many platforms have a certain margin, in which there is a guarantee that you will not take positions (and leverage) that you cannot subsequently pay. In fact, you trade with leverage in a virtual position, the effect of which is enhanced on the futures market. Suppose you close 10 contracts of € 30, then you have taken a position of € 300. If you add 100x leverage to that, you take a position of € 30,000.
You will of course also understand that investing in futures is a high-risk product. This allows you to make big profits, but also strong losses. As a result, futures are generally considered a product for the more experienced traders.
Where can you go?
Bitcoin futures can be traded in more and more locations. You can currently go to the following platforms:
BTCC
BitMEX
Binance Futures
Bakkt
These 4 exchanges are all large, well-known and reputable exchanges. In which, BTCC is the exchange with the longest number of years of operation, up to 10 years in the cryptocurrency market
Conclusion
Futures are and will remain products that are characterized as high risk. It is always important to fully understand the financial product before deciding to trade in it. Always be well informed by a specialist or by going through all available information about the financial products of a provider. This is always your responsibility.
Go For A Free Account on BTCC In Seconds And Try Your First Bitcoin Futures Trading. New Users Will Receive Up To 2,000 USDT Bonus!