How to Choose a Crypto Derivative Trading Platform, and Why BTCC?
Crypto derivative trading has replaced spot trading and become one of the most popular trading instruments in 2020. Crypto derivative trading offers many advantages including trade large leverage with only a small amount of money, and you can open a position by either long or short. Because of its attractive feature, now there are many exchanges that have already launch its crypto derivative trading service.
But there are some common problems come for traders when they choose to trade in an exchange, and it included: system breakdown, the artificial manipulation, and non-transparent price.
Many users want to do crypto derivative trading, but are afraid to be taken advantage of due to problems exist in many exchanges. That's why we introduce the BTCC trading platform to all of you today! Choosing BTCC is the only way to avoid all the problems mentioned above.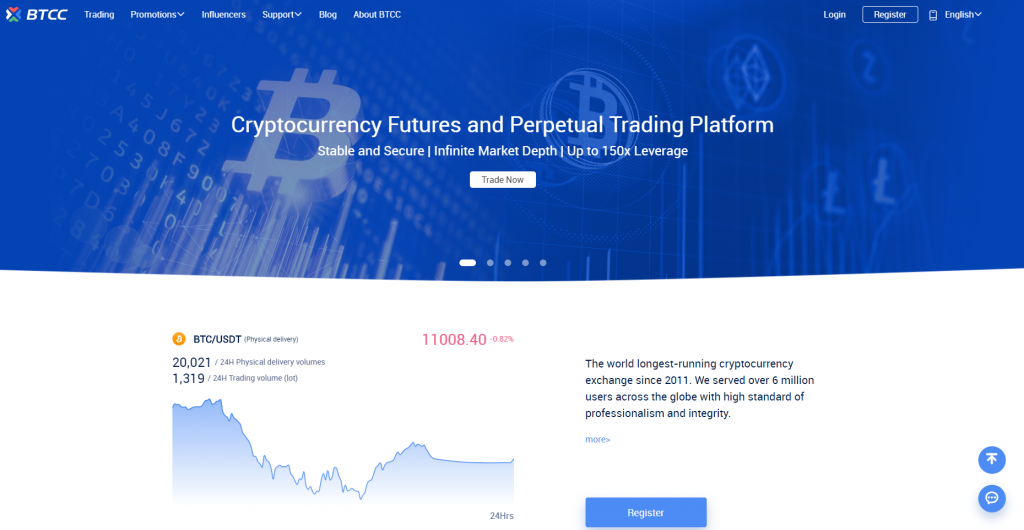 BTCC, founded in 2011, has experience with spot trading, CFD trading, and pool mining. In 2019, BTCC stopped providing both spot trading and pool mining service. As BTCC decide to focus on crypto derivative trading and provide a fair crypto investment environment for the users.
Your first step: Choose BTCC!
BTCC treat their customers as its first priority. For newbies, BTCC has tons of advantages that other trading platforms don't have. A demo account is provided for every user so that you could experience how to do crypto derivative trading. Besides, our analysts update their investment advice from time to time, so that you could trade anytime you want without missing any latest news from the market.
Safe and Stable, Multiple Trading Symbols
Most of the team member at BTCC have background in traditional finance and mobile internet finance. Years of product experience ensure that BTCC never had a security incident. At present, BTCC is used by more than one million registered users around the world, providing trading services to 100+ countries and regions.
BTCC provides IOS/Android APP, Web, and PC terminal for trading, novice or experienced users can choose trading instruments based on their personal needs. BTCC has daily contracts, weekly contracts, and perpetual contracts. BTCC offers crypto derivative trading of 9 mainstream cryptocurrencies, 16 trading pairs, and the highest support of 150X leverage.
In addition to multiple trading symbols, the BTCC index integrates comprehensive quotations of many mainstream exchanges and global liquidity providers. The market depth is large and deep. The platform can accept 500 BTC at the same time, ensuring that every order is traded at the best price.
Whether it is a pending order or a buy order, the price gap between two orders is relatively small, and the price distribution is relatively dense, which proves that the market trading depth of BTCC is very large.
Low threshold, Protect the interests of users
You could trade large leverage with only a little amount of money (0.5 USDT as lowest). Highest leverage up to 150x. You could open positions by either buy or sell to earn the profit. Also, you don't have to share other users' losses. Trading in BTCC would definitely be your best experience!
It is no wonder that despite the strong influence from other exchanges such as OKEx and Huobi, BTCC can still stand firm in mainstream trading. As one of the world-class cryptocurrency trading platforms in the world, BTCC has made considerable contributions to the crypto derivative trading market. BTCC also putting a considerable amount of effort to optimizing products one by one to improve performance and upgrading multiple instruments. I believe that in the future, BTCC will bring quality contract experience to more users around the world.