AMA Recap: Crypto Trend to Look Out For In 2021
2020 has been a year of dramatic change for Bitcoin and cryptocurrency. The DeFi boom, COVID-19 pandemic, and stimulus check each has a key role in the cryptocurrency market. For example, the DeFi boom has caused the second largest cryptocurrency Ethereum to saw a 380 percent rise over the year from around $123 to over $700.
Toward the end of 2020, the world oldest cryptocurrency, Bitcoin has seen an all-time high of over $28,000 on 27 December, 2020. In response to COVID-19 pandemic, the Bitcoin's bull is not surprising for institutional investors as well as high-net-worth individual who consider BTC as a hedge against extraordinary fiscal stimulus program.
The year of 2020 also have seen numerous examples of institutional investors turning their attention to this world most popular cryptocurrency. For example, one of the largest insurance firm, MassMutual has purchased $100 million of Bitcoin on December 2020.
Looking forward to 2021, with many uncertainties ahead, the world's oldest cryptocurrency exchange, BTCC launch AMA on the topic "Crypto Trend to Look For in 2021" to help the crypto community to clear the uncertain economic times ahead.
AMA Recap from BTCC
Dan: Hi everyone in our community, my name is Dan. I'm currently working as the Chief Research Officer at BTCC. I work in the traditional financial market before joining the crypto industry in 2013. We hope everyone will be benefit from this AMA. Let's start now!
Admin: Welcome everyone for participating in our Live AMA, our Chief Research Officer, Dan will be answering your questions soon!
Dan: Hi everyone in our community, my name is Dan. I'm currently working as the Chief Research Officer at BTCC. I work in the traditional financial market before joining the crypto industry in 2013. We hope everyone will be benefit from this AMA. Let's start now!
Question: DeFi and NFTs played a major role in this year's bull trend and it's all centered around Ethereum…Things are looking up for $ETH especially with the ETH 2.0 upgrade. How do you think this will affect the token value in 2021? From @EvandaEscobar
I will answer this question from three different angles: DeFi, NFT, and Ethereum 2.0
DeFi is one of the important benchmarks in the market for project evaluation, which is a clear sign of how important DeFi is. For me, the project must incorporate the following six components to be considered as DeFi.
– Financial service: exchange, lending service, custodial service and etc.
– No need for KYC
– Non-custodial: Financial asset are built on chain, and no need to be custodied by third-party.
– Permissionless access: anyone can access DeFi applications with a crypto wallet and an internet connection
– Decentralized: there are no central authority to govern or make decision.
– Immutability: the security of data and asset is guaranteed by the tamper-proof data coordination in the blockchain network.
As of 21 December, 2020, the total market capitalization of DeFi is around 190 Billion dollars. However, assets that fulfilled the criteria above, and move more than 10,000 time daily is only valued at 121 billion dollars as the market capitalization.
It is worth bearing in mind that the total market capitalization of ICO has touched 3,129 billion dollars as the highest point, at the same time, the crypto market reached 8,857 billion dollars as the total market cap. Compared to ICO, DeFi is yet to reach its potential.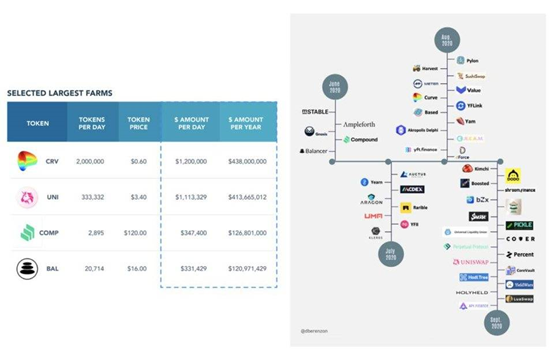 DeFi blossom for the first time when the lending protocol, Compound introduced the liquidity mining, which attract users with its high APY to deposit capital to their platform. In turn, the platform invests in projects that deliver a higher return with the capital. The DeFi token economy was built as a result.
Currently, Uniswap is the leading player in liquidity mining. 80% of UNI tokens still haven't been circulated outside to the secondary market, therefore mining reward for liquidity mining is still very limited in the future. There are still a lot of room to grow given to those uncirculated tokens as well as the expectation of more market participants will be joining the space in the future. The total market capitalization is still very small.
According to AAVEwatch, the amount of collateral asset of decentralized lending has been rising, and double up from October to the end of this year. It is expected that there will be 220% growth before April 2021.
NFT is still in its early stage in the crypto space, and the range of application can be very broad for NFT. For example, NFT can be applied from gaming, collectible, real estate to financial asset. A trading platform that fully support NFT will be one of the important factors for NFT to reach mass adoption.
Finally, let get back to Ethereum 2.0. Ethereum 2.0 was initiated by the demand for better efficiency and transaction fee. Because Ethereum 1.0 is known for its expensive gas fee, and limited scalability. As the market of DeFi is growing at an unprecedented speed, there is an urgent need for a more efficient network.
The world's largest financial derivatives exchange, CME Group announce its ETH derivative product will go live on February 2021, following the launch of Bitcoin derivative product. It means ETH will be considered as a financial product, and will be regulated by the Commodity Futures Trading Commission (CFTC). We expect that the launch of ETH derivative product next year will bring more institutional fund into the market, thus the price of ETH is very likely to see a massive rise.
Question: The bull run in BTC attract attention of major companies like PayPal, Visa etc to invest in crypto market which will enhance crypto industry. How do you see 2021 play crucial role to attract more big investors? From @Anshu71390038
The answer is a firm yes!
As a matter of fact, we have seen a lot of traditional investors were investing in cryptocurrencies this year. As PayPal and Visa become more open to cryptocurrency, over 3.05 billion users of PayPal as well as users of Visa from across 147 countries will be exposed to the market of cryptocurrency.
We are expected to see the crypto market rise slowly from the end of 2020 to 2021. The difference between the bull run this year to the one in 2017 is the previous bull was driven by individual investors and some whales. However, the bull run this year is driven by institutional investors pushing the price up.
As institutions such as PayPal and DBS now step their foot in the field of cryptocurrency. We are expected to see that there will be at least 3 banks providing cryptocurrency trading, custodial and buying or selling crypto service next year. The move will bridge the gap between traditional investors and the cryptocurrency market.
Question: Some of the low and medium volume crypto coins; Very dominant cryptocurrency residents such as XRP, BCH, USDT, ETH, EOS, LTC have the potential to take the location. Do you think Top 10 Cryptocurrencies will change completely in 2021? From Misaki_nia
The answer is a sure yes!
Let us review the historical ranking of mainstream cryptocurrencies (2015–2020).
(Crypto Market 2015/12/20)
(Crypto Market 2016/12/18)
(Crypto Market 2017/12/22)
(Crypto Market 2018/12/23)
(Crypto Market 2019/12/22)
Today
Based on the historical ranking from the past 6 years. Apart from Bitcoin, which remain unchanged at the top. All mainstream cryptocurrencies have undergone change. For example, PPC, BTC and MAID from 2015 now have already gone. STEEM and SEM from 2016 are out of the top 10. While LINK and DOT now become the top 10 cryptocurrencies in 2020.
Regarding the top 4 cryptocurrencies, BTC continue to stay at the top. ETH has rise to the top 2 since 2016, it remains unchanged till now. While LTC has a much volatile change.
We will now look at USDT in particular, the stablecoin has steadily increase in market cap size since 2017, and its market cap has break more than 200 billion dollars in 2020, which indicated there is a strong demand. We expected that there will be far greater demand in 2021, and the market cap of USDT will increase exponentially.
The major theme of crypto market next year will be around DeFi, Polkdot, and ETH 2.0, therefore we will expect ETH remain unchanged at the top 2. While XRP, BCH, LTC and EOS are not what the market needs for next year, we will expect to see these coins will fall out of their current ranking.
Below is our prediction of crypto ranking in 2021:
1. BTC
2. ETH
3. USDT
4. LTC
5. XRP
6. BNB
7. LINK
8. UNI
9. DOT
10. BCH
Question: Ethereum's market cap is now nearly three times the size of Tether and hovers around $44 billion. The jetting of USDT's so-called cryptocurrencies is a form of payment and Tether is expected to rise above Ethereum. Is this an ambitious guess? From @silviaclourenco
As mentioned before, the reason behind the market demand is different for Ethereum and USDT. For example, Ethereum is considered as an asset, while USDT is considered as the hedge asset.
Since March 2020, the total market capitalization of Tether went from 46.31 billion dollars to 230 billion dollars. There is almost no difference between the money printing rate of the Fed, and the issuance rate of USDT stablecoin.
We saw there are more than 170 billion dollars of USDT has been issued in 2020, add up to its total market capitalization of 202 billion dollars. However, the total amount of USDT in the secondary market that circulate is around 24.18 billion dollars. Amid the mass issuance of USDT, there are at least 140 billion dollars of USDT remain unseen. It indicated that the stablecoin will continue to experience a high growth as the market demand increase.
There are two possible scenarios:
If the market cap of ETH next year is smaller than its current one, we will expect USDT will surpass ETH in short time.
If the market cap of ETH has reached the expected 2450 billion dollars, USDT will stay behind ETH.
If the market cap of ETH remains unchanged, it will take 1 years for USDT to surpass ETH.
If the market cap of ETH double up, it is expected that USDT will reach similar size as ETH within three years.
Question: Do you think privacy protection can empower DApps and DeFi to promote the mass adoption of cryptocurrencies come 2021? From Ivanka
Yes, we all know that one of the biggest advantages of DeFi is the exemption from KYC and some part of AML. If DApps and DeFi have grown exponentially next year, it will catch the attention from regulators, and we expect there will be more pressure for imposing KYC and stricter privacy protection in order for DeFi to continue to operate in a legitimate manner.
At the moment, DApps and DeFi are not big enough to be the threat yet. Regulators are not planning to impose any limit on the cryptocurrency market right now. Therefore, the question of privacy protection is not relevant in this context.
Admin: Thank you for everyone participation, and thoughtful analysis from Dan. We hope everyone will be benefit from our conversation, and we look forward to see you in the next AMA session!
Disclaimer: Our content is intended to be used and must be used for informational purposes only. It is very important to do your own analysis before making any investment based on your own personal circumstances. You should take independent financial advice from a professional in connection with, or independently research and verify, any information that you find on our Website and wish to rely upon, whether for the purpose of making an investment decision or otherwise.
BTCC offer 9 major cryptocurrencies, and offering 16 trading pairs with maximum of 150x leverage.
Download our app now: https://bit.ly/3fMMvQU
Follow us on social media!